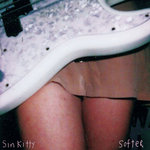 Llegan de una localidad de Carolina del Norte haciendo una suerte de Psicodelia–Shoegazer con ciertos aires incluso Surf. Todo ello elaborado desde casa y con pocos medios. Son una apuesta bastante interesante si te gusta la Psicodelia y las esencias lisérgicas en el Pop. Con este Softer, han recopilado temas aparecidos en su discografía de Ep´s anterior conformando este disco grande.
"Sin Kitty is a descent into a dimension that knows only sex psychedelia and surf rock"
Delicias Psicodélicas
"Sin Kitty is a descent into a dimension that knows only sex psychedelia and surf rock". Los chicos tienen ese puntillo en su música que me recuerda tanto a MBV como a Sonic Youth. Ese aire arrebatador y algo freakie que hace que sus estribillos se cuelen entre las rendijas de tu subsconsciente a poco que prestes atención a su música.
Este Not today again es su último sencillo, aparecido a finales del año pasado. Es un caramelo inyectado de sabores Psicodélicos y Shoegazers. Una verdadera delicia para paladares exquisitos como los vuestros…
Facebook / Descarga legal, pon el precio-Legal download, name the price
A fuerza de ser sincero, el Ep de presentación de esta banda de Asheville, Carolina del Norte, es un disco que casi pasaría desapercibido si no fuera por el sensacional Addie, un temazo tremendo con un hook de guitarra de reminiscencias psicodélicas dignas de los mejores Tame Impala, letras casi recitadas, guitarras zumbonas y chirriantes, un cierto ambiente claustrofóbico y un resultado sobresaliente. El grupo factura algo así como una suerte de Shoegaze de influencias Psicodélicas. El resto de temas no llega a la altura de Addie, aunque quedan como buenos ejemplos del mejor Pop-Psicodélico que nos podemos encontrar en estos comienzos de década, como Only when (I´m lonely), que nos evoca a las No Joy más inspiradas. Seguro que en breve nos podremos encontrar con más buenos ejemplos.
Sin Kitty – Wonder when (Ep, 2011)
"Based out of Asheville, North Carolina, Sin Kitty is a fresh new act with a lot of potential that is definitely worth your time. So drugged-up and heavily psychedelic with hints of lo-fi punk that the short 12 mins of Wonder When suffice will seem shorter. However, it's got some great songs and one that is particularly catchy as hell and the highlight of the EP, track #3, "Addie". It echoes and whispers and walks you through a dreamy path and although the song is only 2.38min long it sticks with you for the rest of the day. The repetitive guitar riff (Tame Impalaish) is so addictive that you'll find yourself wanting to listen to it over and over again, you'll hum it while you shower and think about it while you inhale your cigarette and you may not truly realize what song you have looping in your mind. Other highlights are the opening song "Only When (I'm Lonely)" and "Dirty Rotten Kids", but the truth is that if you like this kind of music, you'll end up liking all of them and you'll be addicted to them, they're so short, they demand various listens. If you are the music lover of bands like James Ferraro, Wavves and Tame Impala and you like their cover art as much as I do, you'll like this EP, if you don't, then your ears may or may not be grateful, but I'm inclined to say they will. I'm really really looking forward to see how their sound evolves and for further releases, but meanwhile, download their debut EP for free and give it a couple listens, it'll only take 24 mins of your day. I'm also posting 2 pretty cool videos of them, enjoy!" (theweirdfishes.com)
Facebook / Descarga legal gratuita-Free legal download
Jangle-Friends

Labels

Mags

Management

The JangleBox Mixtape, LoFi-Dj

Mixtapes

The JangleBox en Facebook

The JangleBox en Twitter

The JangleBox en MySpace

Look for in The JangleBox:

Previously in The JangleBox

Jangle-Comments

Top-Jangle

Jangle-Visits

Feed The Jangle

RSS - Entradas
The JangleBox, 10th. Anniversary

Bands/Grupos