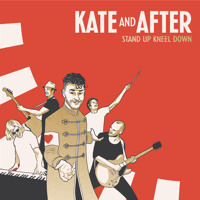 Si no estuviéramos a las alturas de siglo en la que estamos y no hubiéramos pasado ya por la mezcla y la fusión sonora y de estilos por la que ya hemos transitado, os diría que este disco de los suecos Kate and After, su debut, Stand up kneel down (2012), es uno de los mejores últimos exponentes de esta teoría de la que hablo. Su capacidad de fagocitar estilos y tendencias es arrebatadora: del Glam-Pop de amplia visión de MGMT (Girl and boy, Kate) a los últimos retazos del Brit-Pop (The game, Weekend war); del histrionismo de Arcade Fire (Dizzy heights, Wrong intentions) a un cierto Barroquismo Pop (Stand up). Un disco comprometido con su tiempo y absolutamente esclarecedor de lo que la mixtura de estilos puede aportar en estos comienzos del siglo ventiuno. Puedes oír su disco en Spotify o adquirirlo desde aquí.
________________________
"It's hard to sound unique in the indie rock world these days. As a result, crossing genres tends to be the go-to for bands looking to stand out. Bloc Party weave in electronics and dance, Arcade Fire practice Baroque pop andMGMT mix progressive rock and electro into their broth. Kate and After take a different approach, instead relying on 60s psychedelic and Brit-pop. Whilst this HAS been done before, it has never been done like this.
Kate and After's USP's are their phenomenal organ player and highly original vocal delivery. These elements meld themselves to the very best aspects of indie rock, forming a catchy, the choruses are made to be shouted by crowds, and uniquely exciting take on the indie pop/rock genre.  Tracks like 'Ten Feet Tall' and 'Wrong Intentions' are quite literally some of the best indie rock around.
The album plays out perfectly. The abundance of styles juxtapose to a perfectly harmonious whole. The sheer number of influences and borrowed sounds is staggering on the first listen, and it took a few listens before theFranz Ferdinand staccato of 'Weekend War' revealed itself or the 'Arcade Fire' sultry atmosphere of 'Swaying Birches' came to the forefront. It's honestly surprising how British this Swedish band sound.
The influences don't end there however, and some come from far odder fields. The tempo and bass work of 'Never Take Me Home' sound very similar to Black Sabbath, and the climactic organ solo is a brilliant and distinctive touch. 'Ten Feet Tall' nods to calypso music and the entire record, due to the organ, has the slight hint of stoner rock about it. These all equate to the album's apparent purpose, a love letter to the history of rock music. And a beautifully written one at that.
The only small grievance is the last track fizzles out, providing a weak ending to an otherwise fantastic listen. That's still nine outstanding tracks, however. I don't use this phrase lightly, but this is quite possibly one of the best releases of the year, and this is only their debut. If this is a starting point, then this band's journey promises to be an outstanding ride" (purefm.com)
Facebook / Cómpralo-Purchase / Spotify
Los chicos de Kate and After nos hicieron llegar el enlace para disfrutar de su último single hasta la fecha hace ya algún tiempecillo. El problema es que como somos tan descuidados y dejadetes, casi lo hacemos coincidir la fecha de aparición de esta pequeña reseña con la edición de su álbum.
Bromas aparte, lo cierto es que la música de Kate and After tiene algo de mágico, de bello, de juguetón y saltarín. Tiene mucho del Pop épico de los ochenta pero también algo del histrionismo de David Byrne. Mejor lo juzgas por ti mismo y lo escuchas en el enlace que nos ofrecieron para disfrutar de su sonido. Os dejo también Things to do, el Ep que lanzaron en 2010 para que podáis disfrutarlo y descargarlo si os apetece.
_______________________________________
"After love, there is more love to come. So are you looking for a long term commitment with lots of passion and fun experiences. Make sure to wear your heart on your sleeve and give Kate & After a chance." (kowalkskiy.co.uk)
Jangle-Friends

Labels

Mags

Management

The JangleBox Mixtape, LoFi-Dj

Mixtapes

The JangleBox en Facebook

The JangleBox en Twitter

The JangleBox en MySpace

Look for in The JangleBox:

Previously in The JangleBox

Jangle-Comments

Top-Jangle

Jangle-Visits

Feed The Jangle

RSS - Entradas
The JangleBox, 10th. Anniversary

Bands/Grupos