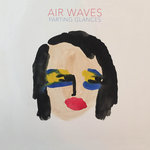 Cinco años han tenido que pasar para que Nicole Schneit publique su segundo trabajo, también bajo el alias de Air Waves. Probablemente la chica no viva de ésto (como me duele tener que decir ésto…), aunque los planteamientos no son muy distintos: intimismo LoFi, instrumentación parca, letras que exploran el interior de las cosas y los sentimientos y cercanía a presupuestos semejantes como los de su predecesor, el igualmente interesante Dungeon Dots (2010).
"More than just identifying with the story, she's interested in the in the lasting effect of the parting glances we share with strangers in our everyday encounters. She explains "You see all sorts of physical and emotional traits on the train. From people puking, making out, screaming, crying, laughing, dancing, grooming, etc. We encounter each other in the thick of our complex lives by simply looking at each other all the time. These glances are mundane and fleeting but also powerfully intimate." The lingering impact of those brief moments seeps into the details and imagery she delivers through her lyrics on Parting Glances. With energizing hooks and a disarming lack of pretense, the songs on Parting Glances burn with ebullient energy and an emotionally engaging core from beginning to end" (Press)
Cuando el pasado mes de Diciembre dimos cuenta en TJB de Knockout, el primer single extraído de Dungeon Dots (2010), nos dimos cuenta de que era un tema excelso, y les cogimos la matrícula para oír su álbum en el momento en el que tuviéramos ocasión. Pues bien, Dungeon Dots es un bonito disco de esos que nos hacen detenernos algo más de lo normal en nuestro reproductor para prestarle atención. Emparentable con bandas como Best Coast o Real Estate en tanto que suenan a Pop de baja intensidad, Air Waves le añaden a su sonido algunos toquecitos Folkies que le llenan bastante (Knockout, Radio, Force Fed, Fort Tilden, Waters…), algo parecido al sonido de unos Fleet Foxes alegres y entonados. La guitarra de Nicole Schneit suena machacona durante todo el disco, con rasgueos parecidos a los de Bethany Cosentino, su grabación es muy básica (incluso hay fallos de registro durante el álbum); sus letras oscilan entre el optimismo y cierta dosis de melancolía, y su voz, personal y algo triste es la protagonista absoluta de todo el álbum, donde apenas si recibe apoyos vocales salvo en contados coros como los de Sweetness o Knockout. Un disco muy personal y que parece como que hubiera pasado algo desapercibido al haberse editado a finales de año. En cualquier caso, merece la pena detenerse a escucharlo con atención y dedicación.
Air Waves – Dungeon Dots (2011)
"I'm alive," sings Nicole Schneit of Air Waves on the jangly, major-chord shuffle of Dungeon Dots opener "Knock Out", "I'm on fire, for the first time in my life." When that line is lifted out of its context, it reflects where the Brooklyn-based songwriter is in her career. After spending the entirety of 2010 (and even a sizeable chunk of 2009) building buzz, playing alongside Real Estate, and serving as Dan Deacon's favorite band, the release of Air Waves' debut serves as a boost to Schneit and her band's already-quick sprint out of the gate.
In context, the lyrics of "Knock Out" paint the portrait of love as a boxing match, surveying the opponent ("Can you put all your teeth out/ So we know just how you fight?") over the vintage bounce of a sock-hop floor-filler. The darker "Radio" carves a vignette of the demise of a relationship out of an economy of lyrics, clanging, strummed guitar, and a resilient bassline. Schneit has a weather-beaten alto reminiscent of folk songstresses Jana Hunter, Bosque Brown, and Scout Niblett, and her thin but charming voice often strains to hit high notes that are just a hair out of reach.
While "Humdrum" takes minimal musical elements and blends them together to create something surprisingly full sounding, "Sweetness" succeeds wildly with just two chords. Throughout, Dungeon Dots displays slapdash pop charm; it sometimes feels as though the running times of the songs are the exact length of time it took her to write them, but that isn't necessarily a bad thing. The rudimentary song structures can get plodding on "Fort Tilden", but even then, Schneit manages to add a simplistic-but-infectious element– in this case, the "ooh-oohs" during the chorus– that carries it over.
There is a sense of melancholy that courses through the fiber of the record, and this is no more apparent than on the two songs that bookend Dungeon Dots. "Waters" is a waltz that serves as the highlight of the record, featuring glittery guitar work, sweet spot-hitting harmonies from Sharon Van Etten, and some of the album's best lyrics ("Wear your purple shirt, boy/ But blue hangs on your sleeve"). Picking both the saddest and most climactic way to end the record, closer "Bisous" starts as a minor-key ballad and turns quickly into a driving climax, evoking a lonely night drive with fog hanging low on the street, while Schneit dejectedly sings, "We wait for a change, but that change never came." There is a rawness, both musical and emotional, in the best moments of Dungeon Dots, proving that the simplest ways to communicate feelings are sometimes the most effective" (pitchfork.com)
Nicole Schneit es una chica inquieta de Austin que en este pasado mes de Noviembre ha editado un disco titulado Dungeon Dots, bajo el pseudónimo de Air Waves. El single de anticipo del mismo es este Knockout, una preciosa gema de Folk-Pop adornado con simples arreglitos propios del género, como esa mandolina que suena machaconamente durante todo la canción. Particularmente me parece un temita agradable y más que ameno. Su distribución es gratuita, y en TJB damos buena cuenta de él.
Air Waves – Knockout (Single, 2010)
"Knockout" is a seemingly simple folk-pop gem, elevated by new Austin resident Nicole Schneit's (aka Air Waves) casually poignant lyrics and her apparently effortless knack for crafting warmly familiar, bittersweet melodies (a nice assist from Jennifer Moore of YellowFever helps too). The wistfully rolling heartbreaker is the opening track from Dungeon Dots, Air Waves' stellar forthcoming full-length, due later this month on Underwater Peoples" (gorillavsbear.net)
MySpace / Descarga legal gratuita-Free legal download
Jangle-Friends

Labels

Mags

Management

The JangleBox Mixtape, LoFi-Dj

Mixtapes

The JangleBox en Facebook

The JangleBox en Twitter

The JangleBox en MySpace

Look for in The JangleBox:

Previously in The JangleBox

Jangle-Comments

Top-Jangle

Jangle-Visits

Feed The Jangle

RSS - Entradas
The JangleBox, 10th. Anniversary

Bands/Grupos