Psicodelia de dormitorio: Sin Kitty – Softer (Lp, 2016)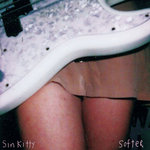 Llegan de una localidad de Carolina del Norte haciendo una suerte de Psicodelia–Shoegazer con ciertos aires incluso Surf. Todo ello elaborado desde casa y con pocos medios. Son una apuesta bastante interesante si te gusta la Psicodelia y las esencias lisérgicas en el Pop. Con este Softer, han recopilado temas aparecidos en su discografía de Ep´s anterior conformando este disco grande.
"Sin Kitty is a descent into a dimension that knows only sex psychedelia and surf rock"
Aún no hay comentarios.
Jangle-Friends

Labels

Mags

Management

The JangleBox Mixtape, LoFi-Dj

Mixtapes

The JangleBox en Facebook

The JangleBox en Twitter

The JangleBox en MySpace

Look for in The JangleBox:

Previously in The JangleBox

Jangle-Comments

Top-Jangle

Jangle-Visits

Feed The Jangle

RSS - Entradas
The JangleBox, 10th. Anniversary

Bands/Grupos