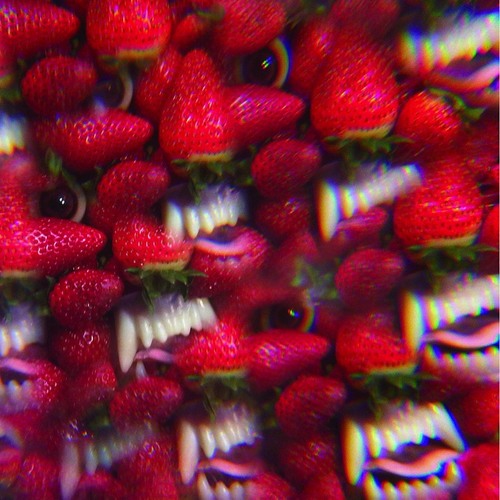 Melting-Pot / Melting-Pop
Thee Oh Sees, además de ser uno de los grupos favoritos para TJB, es una banda capaz de reciclarse a cada nuevo trabajo (y son muy muy prolíficos), o mejor que recrearse, habría que decir que saben darle prioridad a alguna de sus visiones sobre la música popular de nuestro tiempo.
Y me explico. Si en Putrifiers II (2012), las huestes de John Dwyer le daban prioridad a los medios tiempos y a cierta actitud mucho más experimental en cuanto a sus planteamientos más primitivos, en Floating coffin (2013), TOS han decidido volver a pisar el overdrive para darle preminencia en este caso, a la visión más Psicodélica del asunto. La cuestión es que, aunque sin abandonar sus planteamientos de (casi) siempre, los Sees han decidido en esta ocasión ofrecernos un panorama algo más sombrío y volver a planteamientos iniciales (Garaje-Rock, Space-Rock, twangs, trémolos y distorsiones), pero desde un cariz algo más, digamos que Psicodélico. O la visión de la Psicodelia que posee John Dwyer, que igual no tiene mucho que ver con la que tengamos cualquier otro degustador de música, pues el de San Francisco es un auténtico devorador de vinilos.
La cuestión es que Flotating coffin comienza como un tiro, y ésto no es nuevo en cualquier disco de Thee Oh Sees: I come from the mountain se conforma como uno de los trallazos garajeros del álbum. A ella podríamos añadir otros cortes como The floating coffin, Sweets helicopter o Tunnel time.
Luego iríamos con sus visiones más "oscuras": Toe cutter/Thumb buster (historia tremenda y truculenta que me suena muy Grunge, no sé…), No spell, Strawberries One & Two, Maze fancier, Night crawler… En esta sección digamos que Dwyer se ha dejado llevar por ese énfasis Psicodélico y se olvida de los cánones estrictos y alarga o prolonga los temas a discreción.
Y luego está Minotaur, de largo uno de los mejores cortes del disco y por qué no decirlo, de la discografía de los Sees en general. Una canción perfecta, de historia algo surrealista y humorística que nos envuelve con una viola acompañada del trémolo de la guitarra solista para crear una atmósfera algo axfisiante pero desde luego apasionante. La influencia de la Psicodelia de los sesenta aquí es innegable, desde luego.
¿Estamos entonces ante un disco Psicodélico? ¿O ante un disco de Garaje-Rock con influencia Psicodélica…? Lo cierto y verdad es que nos encontramos ante otra obra maestra de Thee Oh Sees, un combo que sabe mezclar como nadie esencias añejas y amalgamarlas según les convenga. Y que continúen.
______________________________________
"For John Dwyer's "5-10-15-20" interview, the Oh Sees frontman talked about discovering the work of the Mexican psych prog band Los Dug Dug's. The legend behind their 1972 albumSmog, as Dwyer heard it, goes like this: Armando Nava went up to the mountains, took acid, and conceptualized that LP. "He came back and taught it to the band, and it is by far their biggest triumph," Dwyer said. Although Thee Oh Sees sound almost nothing like Los Dug Dug's– the latter laying on the flute solos a bit too thick– the opening track on Floating Coffin is called "I Come From the Mountain". Like most of Dwyer's best songs, it's got muscle and drive. As usual, the story is fractured, abstracted, and therein, too nonspecific to be exclusively about Nava. But the spirit of the myth is there: "I come from the mountain, I return again," Dwyer sings. Yes, but is he emerging from the mountain with his masterwork?
Based on their output from the past two years alone, it's hard to fathom what "biggest triumph" would even look like for Thee Oh Sees at this point. Castlemania had Dwyer bleating "I Need Seed" in a strained toad voice; the centerpiece of Carrion Crawler/The Dream was a blistering Krautrock masterwork; "Goodnight Baby" from Putrifiers II was aNuggets lullaby capped by field recordings of chirping birds. Each of those albums are triumphs, and picking the "best" one feels like an arbitrary decision– they suit different moods, different purposes. In that tradition, Floating Coffin is another resounding success.
And it's sort of a sadistic success. In the tradition of tracks like "The Dream", "Tunnel Time" is carried by an adrenaline-fueled drive. But this time, the lyrics are about murdering a whole bunch of people, and the central hook is the band singing an evil laugh: "HA HA HA HA HA, HA HA HA HA HAAAA HA!." Behind every infectious riff, there's a dark undertone. What's behind the strawberries on the album's cover? A murderous gaze. What's behind the earworm hooks and vamp-filled rock'n'roll? Lyrics about splattered blood and dead children. There are a few references to "the maze" as it relates to the narrator's descent into madness. In "Maze Fancier", he's trapped and sings that there's "nothing inside of me." Perhaps that dispassionate void manifests later on "Sweet Helicopter" when he takes a dementedly detached view of murder: "I look down and see them looking up." With his unsettling disconnect between sweet falsetto and portrayal of a glazed-eyed killer, Dwyer definitely earns his spot in the prestigious club of murder balladeers.
Of course, you have to listen pretty carefully to hear Dwyer as demon or serial killer. The lyrics are run through the band's go-to filter of falsetto, voice effects, and extremely loud guitars. The title track is a chaotic burner that sounds like it could fall apart at any moment– each element is barely held together by the bassline– so any vocals are pretty well obliterated by volume. But for an album stuffed with great melodies, smooth transitions, shredding guitar solos, and stellar percussion work (the spastic percussion simmering in the background of "Sweet Helicopter" is a particular highlight), it's hard to mind when the lyrics take a backseat. That said, although Floating Coffin does quite well with its searing powerhouses, the quieter moments add a much-needed sonic diversity. The viola melody that introduces "Minotaur" is gorgeous, and once again, that's for a song that tells a fairly miserable story.
Arguably, the most powerful song on Floating Coffin is "No Spell". The majority of the track features a gentle melody, buoyed by a soft rhythm section, and some ethereal vocals. There are words on the lyrics sheet for the song, but they appear more as a series of evaporating vowel sounds. And naturally, the quiet is broken by a WOO, a series of hefty power chords, and a guitar solo– a thrilling stab of power amid the quiet warmth. It's a sweet melody that offers a brief respite from the bloodshed. It also illustrates that there's no pre-established blueprint for an Oh Sees album, which means there's no telling what's next. As usual, that's an exciting prospect" (Pitchfork)
Jangle-Friends

Labels

Mags

Management

The JangleBox Mixtape, LoFi-Dj

Mixtapes

The JangleBox en Facebook

The JangleBox en Twitter

The JangleBox en MySpace

Look for in The JangleBox:

Previously in The JangleBox

Jangle-Comments

Top-Jangle

Jangle-Visits

Feed The Jangle

RSS - Entradas
The JangleBox, 10th. Anniversary

Bands/Grupos