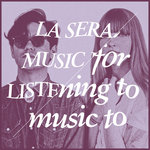 Replanteamientos
Siempre he sido muy benevolente con La Sera. Los anteriores trabajos de Katy Goodman siempre me han parecido tener un encanto especial que, en cualquier caso, desde su último disco (Hour of the dawn, 2014), creo que ha ido desapareciendo. Music for listening to music to (2016) es su última referencia. Ahora La Sera ejerce como dúo, añadiendo a Todd Wisenbaker a su formación habitual y además en tareas compositivas e instrumentales.
Los tres primeros cortes son, desgraciadamente, algo premonitorios de que algo malo va a ocurrir: reiteración, composiciones flojas y cierto aire de desgana. Por cierto, Wisenbaker tendrá otras virtudes, pero no la de entonar correctamente.
Otro de los inconvenientes del disco: ¿qué haría Goodman en este último disco para luchar contra ese mal que se le achaca en casi todos los anteriores? La inconsistencia. Si además a ello le unimos un cierto mimetismo con las guitarras Jangle de Jonny Marr (One true love, Time to go -es pura pura réplica-, Nineties), nos encontramos ante un trabajo ante el que hay que pararse a darle varias oídas y acercarte a temas como I need an angel o One true love para encontrarnos con algo de verdad, con canciones que tengan algo realmente digno de atención. 
"Music For Listening to Music To opens on "High Notes," where rollicking guitar and punk drums chugga-chugga beneath Goodman's assured coo. Her lines deftly wrap the snark of Morrissey inside the sneer of Johnny Cash, and if you ask her what her favorite parts of the new album are, she'll tell you it's the scrappy stuff. "Time to Go," which hurdles out the gate on a rocket of slide guitar and elastic bass, is another one aimed at settling old accounts — just 'cause our heroine is happily married doesn't mean she can't take swings at those who came before.
For a glimpse at the album's genesis, though, pull up duet "One True Love." When it came time to write her fourth full-length, Goodman wasn't sure where she wanted to take the music. One night she and Wisenbaker (a Jenny and Johnny touring alum who joined La Sera in 2012 and produced Hour of the Dawn) did something they'd shockingly never done before: wrote a song together. That upbeat jangle-pop cut was the result, and the rest poured out. Wisenbaker sings on two others as well — the coiffed malt shop blues of "I Need an Angel" and bittersweet rocker "Nineties," which features synth by Adams and Greta Morgan (The Hush Sound, Gold Motel). Nate Lotz (Halsey, Madi Diaz) drummed for the weeklong PAX-AM studio sessions.
As a testament to the chemistry that happened in that space, Music For Listening to Music To spawned another fruitful relationship: Adams and Wisenbaker hit it off and decided to start their own band. Instead they wound up recording a bunch of Taylor Swift covers, which became the 1989 album. These days Wisenbaker's doing double duty — you might've seen him backing Adams on Jimmy Kimmel or The Daily Show.
Goodman says Adams' excitement about taking La Sera into the analog realm inspired her to embrace the back-to-basics approach. Considering that, it's the slower, more spacious tracks — like the spare and moody "Begins to Rain" or the grunge-kissed closer, "Too Little Too Late" — that best illustrate how far La Sera's come since 2011's self-titled bedroom-pop debut and 2012's brighter (if still emotionally overcast) Sees the Light. Goodman's knack for swoon and gloom, first heard via Vivian Girls, is only enhanced by the addition of Wisenbaker's voice. As she sings on "A Thousand Ways," arguably Music For Listening to Music To's dreamiest song, "Love can do all of these things." Knowing Goodman there's a sly wink in there, but it's easy to imagine, if only for a beat, that the carefree flame of the oldies La Sera hold so dear still burns here" (Press-Bandcamp)
Jangle-Friends

Labels

Mags

Management

The JangleBox Mixtape, LoFi-Dj

Mixtapes

The JangleBox en Facebook

The JangleBox en Twitter

The JangleBox en MySpace

Look for in The JangleBox:

Previously in The JangleBox

Jangle-Comments

Top-Jangle

Jangle-Visits

Feed The Jangle

RSS - Entradas
The JangleBox, 10th. Anniversary

Bands/Grupos