El Pop desenfadado y deshinbido de Maths and Physics Club tenía mucho material por ofrecer que se fue quedando por el camino, en forma de caras B o material sencillamente nunca editado. Matinée ha reparado en ello y acaba de publicar este In this together, un bonito recopilatorio de dieciséis de estas canciones.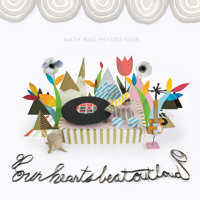 'Our Hearts Beat Out Loud' is the third studio album from our favorite North American pop stars Math and Physics Club, and their first since 2010's sparkling 'I Shouldn't Look As Good As I Do' LP.
The new ten song collection is the band's most dynamic to date, confidently expanding their palette of subtle, literate pop and sprinkling it with hints of country, dub, distortion, and Graceland.
Ethan Jones, the band's bass player and resident multi-instrumentalist, co-produced the album with Bob Schwenkler at Olympia's fabled Dub Narcotic Studio. Their goal was to make an old fashioned album with two sides, taking advantage of the studio's vintage analog equipment to get away from the sound of digital perfection and instead sound like a band playing together in a room.
With Charles already living in Olympia, and James and Ethan having deep connections there as well, Dub Narcotic was a natural fit, not to mention being ground zero for the legendary K Records. It was a perfect atmosphere for the band to relax and capture some of the feel of their early EPs.
The first single, 'Long Drag,' is surprisingly groovy with its schoolyard beat and staccato handclaps. The song was originally recorded as a straight-ahead rocker, but after playing a cut-up dub version for some friends the band decided to keep it.
More surprises follow with 'We're Not Lost,' a brooding anthem to teenage heartache with its angular guitars and snap-tight drumming. Meanwhile, 'My Crooked Arms' strips away the drums and bass to reveal an emotional core of raw lyrics and guitars, accented beautifully by cello.
For you vinyl aficionados, side two opens with 'We Didn't Run From Anyone,' a country-leaning ballad about love on the rocks (what else?), with Ethan's gentle fingerpicking and breezy organ setting the scene.
The album closes with a dramatic one-two punch. 'That's What Love Is' is a classic jangly rocker that's sure to please the most ardent anoraks with its shades of Brighter, while the album's final surprise, 'Road Carry Me Home,' is a lovely piano and cello driven heartbreaker" (Press)
Nuevo material sonoro de Math and Physics Club. Los de Seattle vuelven a la carga con un sencillo de adelanto al que será su nuevo disco: Our Hearts Beat Out Loud, a publicar este mismo mes de Julio en uno de nuestros sellos favoritos: Matinée Recordings. Su Folk-Pop lleno de encanto y de guiños está de nuevo a punto para emocionarnos con este Long drag.
"Seattle indie darlings Math and Physics Club come out swinging with their latest single and first release in three years. 'Long Drag' is the lead single from the band's forthcoming 'Our Hearts Beat Out Loud' LP, and this time they're playing against type with a raw, groovy stomp that sets moody lyrics against a sassy, schoolyard beat. The exclusive b-side 'Across the Paper' takes a more soft shoe approach, with ukulele, mandolin, and warm harmonies providing the backdrop for broken hearts. Recorded by Bob Schwenkler at Olympia's fabled Dub Narcotic Studio, the single heralds a definitive return for our favorite American band. Pressed on coke bottle green vinyl and limited to 500 hand-numbered copies in a super hip sleeve designed by artist Tae Won Yu" (Matinée Recordings)
Jangle-Friends

Labels

Mags

Management

The JangleBox Mixtape, LoFi-Dj

Mixtapes

The JangleBox en Facebook

The JangleBox en Twitter

The JangleBox en MySpace

Look for in The JangleBox:

Previously in The JangleBox

Jangle-Comments

Top-Jangle

Jangle-Visits

Feed The Jangle

RSS - Entradas
The JangleBox, 10th. Anniversary

Bands/Grupos