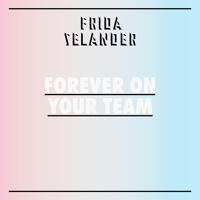 Aunque aparecido originalmente en su país el año pasado, el lanzamiento internacional de la cantautora sueca Frida Selander se producirá este próximo mes de Febrero con este bonito sencillo llamado Forever on your team (2013), una canción que además de explorar en los sentimientos, se mueve a gusto entre el Pop de guitarras y el sonido más cercano a la Americana, con arreglos (preciosos) de cuerda incluidos. Os dejo el enlace para que podáis descargaros el tema.
______________________
New single from Umeå, Sweden's FRIDA SELANDER. Out January 5th 2013. "You change the town, you open up the hearts, you change my life, forever on your team." This is a new single from Frida Selander's latest album Try Again Baby. Written by Selander, recorded and produced by Oskar Sandlund, in Superstudion, Umeå, for Amasonora. A song brimmed with hope and confidence. You're sailing slowly with the strings, in beams of light, above expanding landscapes. The rhythm section swings colours to the site, animates you. Finally, you can rest in the warm shelter of the voice. This song is your friend. It will carry you home."
www.fridaselander.com
www.birdswillsingforyou.com
Otro lanzamiento de la órbita de Birds Will Sing for You Records, la cantante sueca Frida Selander. Su música tiene algo de cantautora, tiene algo de Americana, tiene algo de Folk…
Mejor lo escuchas, lo descargas y si te parece, lo difundes.
_________________
"She drifts on the surface and now and then, like a child dangling on the rail of a rowboat, she thrusts her hand down into the deep and brings something back, something you didn't know was there. It's the essence of songwriting. Don't miss it.
As Sweden's largest news paper puts it: "When Selander hits the mark she's in the same league as songwriters such as Lucinda Williams. Now she could get her breakthrough" (Press)
Jangle-Friends

Labels

Mags

Management

The JangleBox Mixtape, LoFi-Dj

Mixtapes

The JangleBox en Facebook

The JangleBox en Twitter

The JangleBox en MySpace

Look for in The JangleBox:

Previously in The JangleBox

Jangle-Comments

Top-Jangle

Jangle-Visits

Feed The Jangle

RSS - Entradas
The JangleBox, 10th. Anniversary

Bands/Grupos