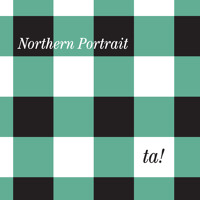 Pure Jangle
Matinée Recordings acaba de publicar a finales de este diciembre recién concluido una recopilación con material sonoro de Northern Portrait procedente de toda su vida como banda. 
Nuestros émulos favoritos de The Smiths vuelven al primer plano de la actualidad Indie con un disco que no desmerece en absoluto anteriores entregas.
"As an album, 'Ta!' doesn't sound like a disjointed selection of tracks they've found down the back of a sofa or hidden on old demo tapes, it sounds like a complete collection of very well-written and recorded songs that easily matches their previous long-player: this is a set of songs the trio can rightly be proud of. They've never hidden their love of '80s guitar bands and nor do they do so here, but rather than pilfer bits and bobs as best they can and try and cash-in on those who wish for the days of old, they show their own talents as top-drawer songsmiths and repeatedly impress. This is aided by several of these tunes appearing in the past as singles in their own right, and also a little touching-up being done to a few early tracks, but from start to finish this is a record that has peaks, yet it doesn't have the troughs that so often go with them. The opening bars of 'A Quiet Night In Copenhagen' may have you thinking of Morrissey (or maybe even Gene or The Incredible Flight Of Birdman or anyone else who's fallen foul of that tiresome comparison), however, it will also put an immediate smile on your face, as will early track 'I Give You Two Seconds To Entertain Me' which follows it. These are songs with a freshness and a heady rush that will delight anyone who's willing to let stuffy inhibitions go. The tunes keep flowing like Champagne at midnight on New Year's Eve. 'I Feel Even Better' has a wonderful jangle and melody; 'Waiting For A Chance' does even more so; recent single 'Happy Nice Day' still sounds cracking. This could be an indication that the band are getting even better as they get set to release their second studio album next year, and for confirmation of this you need only lend an ear to the most recent song of all: 'The Young and Hopefuls' which was featured on Matinee Recordings recent fifteenth anniversary album 'A Sunday Matinee'. It would be easy to praise each of the fifteen songs here, but the best option is to simply listen without prejudice. Like anyone else, Northern Portrait have their influences, but they also have their own songs and their own talents, and on 'Ta!' they take another step towards cementing that notion in the minds of even the most cynical of listeners" (Sounds XP)
Facebook / Matinée Recordings / Cómpralo-Purchase
Estallido Jangle
El Jangle-Pop goza de una estupenda buena salud. Una nueva prueba más de ello la constituye el último sencillo del grupo danés Northern Portrait, que publicará, a comienzos del próximo año este Happy nice day, un sencillo en el que la banda homenajea a sus queridos The Wannadies, un tema de esos que le levantan a uno el ánimo por muy alicaído que lo tenga. La canción es, además el tema central de un Ep titulado Pretty decent swimmers (Ep, 2013; Matinée 086), que, como decíamos, se publicará a comienzos del 2013 en el sello Matinée Recordings. "The song is three and a half minutes of straightforward power pop inspired by Swedish pop idols The Wannadies.  It is an ode to the joys of traveling and casual meetings in hotels, airports and pen friend sections from Tokyo to Stockholm to Hamburg to Nice and beyond" (Matinée)

Pues bien, Pretty Decent Swimmers ya está aquí. Se trata de la primera referencia de Matinée Recordings en este 2013,y el debut no podía ser más esperanzador. Una auténtica bocanada de aire fresco para este año que se presenta difícil, aunque esperanzador. Algo así a la sensación que desprende Pretty decent Swimmers, un estallido del mejor Jangle-Pop interpretado a la manera nórdica: guitarras cristalinas, letras animosas, voces en un plano destacado, estribillos y versos de chicle, y por supuesto, ese característico sello Smithiano que inunda todo el sonido de este disco que se nos antoja demasiado corto, porque nos quedamos con ganas de mucho mucho más.
Un disco absolutamente contagioso y lleno de ese sentimiento tan simple como vital: la belleza.
"The band debuted in 2008 with two very well received EPs—'The Fallen Aristocracy' and 'Napoleon Sweetheart'—both of which sold out almost instantly upon release. The band's consummate debut album 'Criminal Art Lovers' enjoyed widespread international acclaim in 2010 including numerous appearances on year-end favorite lists, and the 'Life Returns To Normal' 7" single on elegant clear vinyl was released later that same year.
Northern Portrait has charmed live audiences in Denmark, England, France, Germany, Italy, Spain and USA over the years, including performances at the prestigious Indietracks Festival and popfests in Copenhagen, Limoges, Madrid and San Francisco.
The fantastic new 'Pretty Decent Swimmers' EP is available on deluxe 10" color vinyl and digital formats, and features the first new recordings from the band in over two years.
Lead track 'Happy Nice Day' is three and a half minutes of straightforward power pop inspired by Swedish pop idols The Wannadies. It is an ode to the joys of traveling and casual meetings in hotels, airports and pen friend sections from Tokyo to Stockholm to Hamburg to Nice and beyond.
Meanwhile, 'Greetings From Paris' explores the difficulty in admitting when reality doesn't exactly match expectations and ambitions. It's a superb slice of Nordic guitar pop that builds to an especially melodic conclusion.
Side two opens with the playful and jaunty 'Bon Voyage!', a song about short term holiday attractions gone wrong … but with a slight twist. Musically sunny and shimmering, the song is a guitar driven sunbath and pool dive all in one. Bon voyage indeed!
Powerful and jangly, closing track 'I Feel Even Better' is an escapist's dream come true. Lyrical elements from the Cheers theme song in reverse accentuate the desire to get away, while autoharp and 12-string guitar add a bright sparkle to the general bounciness of the song.
'Pretty Decent Swimmers' is pressed on transparent swimming pool blue vinyl and limited to 1000 hand-numbered copies in a luxurious sleeve featuring fashionable Los Angeles water ballet troupe Aqualillies on the cover.
A very welcome return for one of the most esteemed bands in indie music today" (Matinée Recordings)
Jangle-Friends

Labels

Mags

Management

The JangleBox Mixtape, LoFi-Dj

Mixtapes

The JangleBox en Facebook

The JangleBox en Twitter

The JangleBox en MySpace

Look for in The JangleBox:

Previously in The JangleBox

Jangle-Comments

Top-Jangle

Jangle-Visits

Feed The Jangle

RSS - Entradas
The JangleBox, 10th. Anniversary

Bands/Grupos