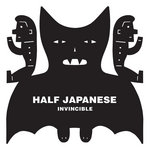 #TheJangleBox #NovedadesTheJangleBox #DescubreTheJangleBox #RememberTheJangleBox
Lo de HALF JAPANESE es un caso absolutamente epatante y digno de estudio. Dentro de su longevidad como banda/artistas, el combo de JAD FAIR, que va prácticamente a disco por año, continúa sorprendiéndonos con esa forma de entender el Pop+C86, algo deslabazado e incluso anárquico, pero ofreciendo gotas de auténtica genialidad (Indestructible, Love explosion, Swept away, Or ever will, All at once, What are you gonna do?…) Inclasificables.
"Puppet people, vampires and the walking dead frequent the world of Jad Fair's songwriting – outside of those interruptions he's besotted. Maybe even in love. He feels invincible and as the closing instrumental cut 'Indestructible' floats off into the ether there's a feeling of job done; we can rest tonight; everything is good; we are loved and in love.
"Hooray for love!" Jad intones on 'All At Once'. It comes to us all… eventually.
On their last excursion into the studio, Pop Matters summed them up as so: "Half-Japanese are a respected institution. They've been making noise since the late '70s. Noise is an important word here because one defining feature of the group is this."
Nothing changes. Fair, J, an inspiration on the Elephant Six groups, Kurt Cobain and a host of others remains a rose-coloured visionary, mocked by monsters and loved by girls. It begs the question, is penultimate track 'It Has Me' about the former or the latter? As ever, this is a two-way thing, you make as much of Half Japanese as you want to. You have to put in the work, have the imagination.
Their new studio album continues to be uncategorizable, joyous, detuned, quizzical, alluring, childlike, charming, innocent, questioning. 'Invincible' is a celebration of sound. It's pop music for those outside of pop music. It has songs for those still bedevilled by one liners and abrasive melodies.
Half Japanese are Jad Fair, John Sluggett, Gilles-Vincent Rieder, Jason Willett and Mick Hobbs" (Press Note)
Así como si tal cosa, Jad Fair, a sus sesenta añazos, continúa dando clases de vitalidad a base de guitarrazos y enérgicos compases de Pop aliñado con la actitud más proto-punk.
Attack of the giant leeches es el adelanto del que será el primer trabajo de Half Japanese en catorce años, a publicar a comienzos del próximo año.
"With Jad Fair at the helm for over four decades, the highly revered Half Japanese still remain "the ultimate expression of punk's dictum that rock should be accessible to anyone who wanted to pick up an instrument and play" (AllMusic)
"If you can overlook these flaws, Solid Gold Heart is, well, solid. Anyone who listens to this record is in for a treat: an uplifting, life-affirming experience. "Grab and hold on to the brightness" goes Fair at one point, and that's pretty much the manifesto of the entire album. This is just pure pop, full of peppy gems that'll put a smile on your face and a spring in your step. It's hard to hate something that is so positive and uptempo, and, as far as it goes here, the fruits of this shared labour of love yield largely great results. It makes you wonder what those other three albums are going to sound like, but if one thing's for sure, if they're anywhere nearly as good as this one, Fair fans are going to be in for a real treat. Solid Gold Heart glitters and pulsates with goofy and infectious energy, and pretty much doesn't make a frown be your umbrella. This is an album of happiness, of fighting for the powers of righteousness, and diving into some mom's homemade apple pie. Still having a bad day? Let Jad Fair and Danielson lift your spirits. This is resolutely the most heartwarming and sweet album you're going to hear all year, and one thing still remains, and that is Jad Fair is still the coolest man in indie rock"
[spotify https://open.spotify.com/album/7jW4r61R7xrP5OBABxwSPj]
Jangle-Friends

Labels

Mags

Management

The JangleBox Mixtape, LoFi-Dj

Mixtapes

The JangleBox en Facebook

The JangleBox en Twitter

The JangleBox en MySpace

Look for in The JangleBox:

Previously in The JangleBox

Jangle-Comments

Top-Jangle

Jangle-Visits

Feed The Jangle

RSS - Entradas
The JangleBox, 10th. Anniversary

Bands/Grupos