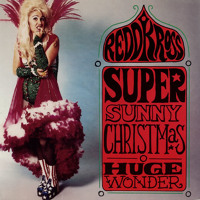 ¿Os creíais que las huestes de los hermanos McDonald iban a dejar pasar la ocasión de este año de su gloriosa reaparición sin regalarnos algún dulcecito navideño más…?
Algún sencillo navideño más para estos días, que nuca viene mal, máxime si tiene la energía de este Gnarly X-Mas, interpretado por una de nuestras bandas favoritas: Red Kross.
Researching the Powerpop
Después de pasar dos días seguidos escuchando a saco el último trabajo de Red Kross, lo primero que se me viene a la cabeza es que los hermanos McDonald erraron con el título del mismo. Yo no titularía Researching the blues, sino más bien Researching the Powerpop. Red Kross han vuelto justamente donde lo dejaron allá por 1997 con Show world. En un momento álgido creativo y musical.
Con los californianos pasa como con algunos amigos que has reencontrado gracias al Facebook. Primero ves unas cuantas fotos de la actualidad y piensas en cómo pasa el tiempo. Pero si conciertas una cita y puedes ver en vivo a esa persona, puedes comprobar como igual su personalidad se mantiene intacta, tal y como tú la recordabas.
Con Researching the blues, la banda de los McDonald se ha marcado un regreso auténticamente notable. Un disco que no da respiro, donde no hay relleno ni material sobrante. Una colección magna de canciones que retoman, como decía, esa vena powerpopera adornada con toquecitos del mejor Jangle-Pop que, a fin de cuentas, es la que nos terminó enganchando, superando las primeras filias post-punkies de sus primeros discos. En los temas en los que la energía se mezcla con las grandes melodías (Stay away from downtown -la mejor del disco, pluscuamperfecta-, Dracula´s daughters, Meet Frankestein, One of the good ones, The Nu temptations, Choose to play o Winter blues) es donde Red Kross dan lo mejor de sí mismos, y nos sorprenden de nuevo con la fuerza de sus temas redondos, sus constantes guiños al pasado (Who, Beatles…) y ese deje lenonniano de la voz de Steven, dando como resultado una serie de canciones auténticamente notables.
Donde sí "flojean" algo es cuando retoman esa vena más macarra llena de hooks y riffs de guitarra a volumen elevado. Aunque escuchando la titular, Researching the blues, uno nunca pensaría que serían los cortes menos agradecidos, pues en ella se mezclan a la perfección esa vena bluesy y un estribillo auténticamente demoledor.
Researching the blues, o como lo rebauticé Researching the Powerpop es un disco de los que no deberías dejar pasar por alto. Un álbum que, aunque sólo fuera por la curiosidad de comprobar cómo ha evolucionado o madurado la música de una de las bandas punteras en los noventa, merecería tu atención. A mí, particularmente, me ha cautivado.
________________________________________
"Released in 1982, Redd Kross' debut record, Born Innocent, was to mall-punk what homo erectus was to modern man. Founded in the suburbs outside of Los Angeles, the band, led by teenage brothers Jeff and Steve McDonald, wrote scrappy and bratty three-chord pop songs that betrayed a fascination with B-movie kitsch via references to Charles Manson,The Exorcist actress Linda Blair, and sugar-infused breakfast cereals. According to legend, they even opened for Black Flag at a middle school graduation party.
But eventually, Redd Kross accrued some polish. By the early 90s, the band had evolved into a heavy but hooky power-pop outfit. After a few years spent wandering the globe supporting less-worthy, yet more successful, alternative era bands– Spin Doctors and Stone Temple Pilots, among them– Redd Kross decided to hang it up for a while, easing into an indefinite hiatus following the release of their 1997 album, Show World.
And now, they're back. Researching the Blues, the group's latest record, was written and recorded around 2007 after the band was coaxed out of retirement for a handful of festival dates, and is just now seeing release via Merge. The McDonald brothers pick up pretty much where they left off, smudging vintage Cheap Trick riffs with liberal amounts of overdrive and balancing lovelorn lyrics with imagery swiped from the "cult" aisle of your local video store. But in a lot of ways, they're better at it now. Produced by Steve, the younger brother, lately of OG hardcore revivalist outfit Off!, Researching the Blues is a leaner and more focused records than its two predecessors. With the murky production artifacts of the 90s stripped away– the heavy reverb, the walls of fuzz, the chorus pedal-laden solos– Redd Kross sound tighter and more energetic, even though their guitar tones have mellowed a little.Over the last several decades, power-pop has proven to be a suitable vessel for all sorts of far-out content, from the surrealist ranting of Guided By Voices, to the teenage ennui of Shoes, to punk-informed self-examination of the Mice. But from a structural standpoint, you have to play by the rules. There has to be a verse, a chorus, and a jangling guitar hook. OnResearching the Blues, Redd Kross prove they still have a knack for shifting those component parts into fresh shapes. In just three and a half minutes, "Stay Away From Downtown" ping-pongs between vocal hooks and sticky guitar leads. "Dracula's Daughter" cakes on the Byrds-style "oohs" and "aahhs" to dreamy effect. With its power chord-driven teaser chorus and miniature slide guitar break, "Winter Blues" is the kind of song Weezer fans would gladly trade all of the band's post-Pinkerton records to get. Sometimes it pays to take a break, even if it lasts a little more than decade" (pitchfork.com)
Facebook / Official / YouTube / Cómpralo-Purchase
Jangle-Friends

Labels

Mags

Management

The JangleBox Mixtape, LoFi-Dj

Mixtapes

The JangleBox en Facebook

The JangleBox en Twitter

The JangleBox en MySpace

Look for in The JangleBox:

Previously in The JangleBox

Jangle-Comments

Top-Jangle

Jangle-Visits

Feed The Jangle

RSS - Entradas
The JangleBox, 10th. Anniversary

Bands/Grupos