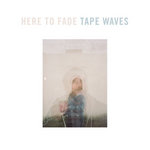 Hablar de TAPE WAVES es continuar hablando de playas, de Dream-Pop, de ensoñaciones y de arrebatos Pop. Sus canciones continúan teniendo la calidez que descubrimos hace ya cuatro años en estas mismas páginas.
Here to Fade es su última referencia, aparecida en un sello amigo de TJB: Bleeding Gold, especialista en variedad sonora y en descubrimientos epatantes como el que nos ocupa.
"With shimmery guitars and hushed vocals, their songs evoke images of hazy summer days and young love. Their sun-drenched pop songs have garnered attention from numerous media outlets including NYLON, BlackBook and Impose" (Press)
Mazzy Star surfeando con aires Dreamy…: Tape Waves. Este verano publicaban su primera referencia, este disco etéreo que nos lleva de paseo por las nubes de un cielo Pop absolutamente soleado.
"Songs like "Stay All Night" fuse raw, whispered pining for lost love with infectious surf-esque, reverb-infused guitar. The combination is a hazy, beachside daydream. Let's be real, getting friend-zoned never sounded so good." – (NYLON)
De la mano de Tape Waves inmediatamente nos teletransportamos a ese paraje tan conocido para nosotros, habitantes del sur de Andalucía: las playas cálidas, el remanso de paz estampado aquí en forma de dos temas tremendos que componen el debut de este dúo de Charleston, Carolina del Sur: Kim Hart y Jarod Weldin. Un oasis de Dream-Pop e instrumentación limpia y cristalina en las que puedes encontrar tanto las huellas (recientes) de Real Estate como las de los Yo la Tengo más ensoñadores. Canciones que te pueden hacer fantasear las veces que decidas oírlas y reproducirlas en tu reproductor si es que no decides bajártelas a tu pc pues tienen la opción en su Bandcamp de hacerlo al precio que consideres oportuno.
Para este mes de Julio tienen preparado el que será su Ep de debut, en el sello Box Bedroom Rebels.
_______________________
"Tape Waves is a duo from Charleston, SC (yep, I had to look up where the heck this place is).  You can listen to Tape Waves sun-dappled pop via their bandcamp page, whilst picturing a shiny deserted beach, with crystalline sea and good-looking surfers, waves dying on the beach. *sighs looking at the gloomy cloudy sky* Tape Waves 4 song 7″ is coming out this summer on UK label Box Bedroom Rebels" (Just Another Diy Music Blog)
Facebook / Descarga legal gratuita-Free legal download
Jangle-Friends

Labels

Mags

Management

The JangleBox Mixtape, LoFi-Dj

Mixtapes

The JangleBox en Facebook

The JangleBox en Twitter

The JangleBox en MySpace

Look for in The JangleBox:

Previously in The JangleBox

Jangle-Comments

Top-Jangle

Jangle-Visits

Feed The Jangle

RSS - Entradas
The JangleBox, 10th. Anniversary

Bands/Grupos