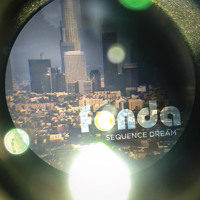 Si ayer nos encontrábamos con el genial Sell your memories, el cuarto trabajo de los londinenses-angelinos Fonda, hoy os presento este nuevo sencillo que acaban de publicar: Sequence dream. Una especie de interpretación personal de lo que para Fonda significa el Shoegaze. Un bonito y melancólico corte que va acompañado de Another New Year´s Eve, otra angelical canción en la que la voz de David Klotz es la protagonista acompañada por la mucho más bella y curtida de Emily Cook y los arreglos de cuerda que arropan este precioso corte.
"Sequence Dream" takes what you might think of shoegaze and takes it a little further, even dabbing in space-rock a little. The new single's accompanying b-side "Another New Year's Eve" which features a 20-piece string section, is also a great tune that will help your day dreaming persona" (Blast Our Your Stereo)
Amores Tardíos
Sell your memories es un disco tardío. En todos los sentidos. En primer lugar, porque ha llegado a mis oídos muy tarde, cuando se trata de un álbum editado casi a comienzos de año. En segundo lugar, y en realidad lo importante, porque Sell your memories es un trabajo que de alguna manera podíamos calificar como tardío porque lo que Fonda nos propone en él es una regresión hasta finales de los ochenta y comienzos de los noventa. Un canto al Madchester, al primer Brit-Pop, al Shoegaze más lustroso…
Un disco absolutamente brillante, feliz, positivo y epatante para todos los que de alguna manera vivimos todo aquel fenómeno de primera mano.
Los estribillos y los hooks de Seeing stars, You´ve got a life of your own, She is real, You and I, Summer´s gone, Moving forward… son alegres y gozosas recreaciones de los mejores momentos de la música británica apuntada anteriormente.
No en vano, Fonda son un grupo nacido hace unos diecisiete años, aunque éste sea su cuarto trabajo. Altibajos, incursiones en el mundo de la música y los guiones cinematográficos y televisivos, aventuras varias…
Sell your memories es pues un trabajo tardío, pero de plena vigencia. Y tanto, que va directo al rincón de los favoritos del año.
_________________________________
"Sell Your Memories" is the new full length album from the Los Angeles band, Fonda. Fusing together classic pop hooks and gracious, dreampop sonics, Fonda approach pop music's most celebrated subjects with a colorful, blissed-out, reverbed drenched, kaleidoscopic wall of sound.
It's a collection of sad love songs, dreamy crush stories and bittersweet break-ups" (Press)
Como bien reza en la promoción de su página web: ¿Es Twee, es Pop de los ´60 o es Indie de los ´90? Fonda parecen tener las respuestas y saben responder con certezas a tales preguntas, mezclando hábilmente todos esos elementos y fusionándolos en cinco cortes encantadores que rezuman lo mejor de los noventa (aproximadamente cuando ellos lo dejaron) con mucha de la dulzura y de la delicadeza del Pop sesentero. Si Better days y My heart is dancing representan aquella tendencia incisiva y mordiente del Indie noventero; A love that you won´t let go, In the coach station light y Summertime flight representan la de los temas más calmados. Personalmente me quedo con la tendencia más ´90, aunque ello no quiera decir que las canciones de Fonda tengan una cara y una cruz. Indiscutiblemente, nos encontramos con uno de los mejores Ep´s de Pop del año y ello ya es suficiente.
Fonda – Better days (Ep, 2011)
"It's been eight years since Fonda's last album, Catching Up To The Future, was released on the Parasol label imprint, Hidden Agenda Records. Since then, the band's principal songwriters, David Klotz and Emily Cook have devoted time to other projects. Emily is a working screenwriter having written such films as "Gnomeo and Juliet" while David is currently the music editor for the television show …"Glee".
Their most important project to date, however, has been the birth of their son, Henry. So, there've been some legitimate reasons for the prolonged absence. They actually recorded the bulk of their new EP around Henry's nap schedule. A good day in the studio would be having the ability to finish just one guitar track.
Many months later, they had 5 new songs of 1960's styled indie-pop. However, in classic Fonda form, those 5 pop songs have been filtered through the lens of 1990's-era, My Bloody Valentine creating some fine melodic dreampop.
The origin of the band began nearly 17 years ago when Emily Cook moved from London to Los Angeles to find a job in Hollywood. A chance meeting with David Klotz on a movie set led to the friendship that would eventually form the band Fonda. Sharing an adoration for Farfisa organs and the musicals of French film director Jacques Demy, they recorded 1998's Music For Beginners EP. Pressing only 1000 copies, David and Emily spent their weekends driving to record stores to consign copies of the 5-song disc. Their hard work paid off with the help of KROQ's legendary DJ, Rodney Bingenheimer, who played the track "Crazy Love", making it one of the top ten most requested songs on his show in 1999.
Later that year, David Newton, former member of Sire/Reprise artists, The Mighty Lemon Drops, joined Fonda after producing their debut album The Invisible Girl. With a host of friends filling in on bass and drums, Fonda self-released the album in 1999. It was embraced by college radio and peaked at #39 on the CMJ 200 Album Charts.
In 2001, Fonda released their 2nd album The Strange and The Familiar. Soon after, Fonda's crafty pop sense caught the attention of Miramax Films, hiring the band to write and perform the end title song to Robert Rodriguez's 2001 summer hit movie, "Spy Kids". Fonda's catchy "Spy Kids" anthem appeared on the film's soundtrack and was released as a single in Europe. To this day, it's still a current favorite on Disney radio.
In 2003, Fonda recorded and released their third album, "Catching Up To The Future" And then, as it always does, life gets in the way: career opportunities, mortgage payments, wine tastings, babies, etc.
As years passed, the band's then current line-up drifted apart leaving David and Emily to find their way back eight years later with the Better Days EP" (

Facebook

)
Jangle-Friends

Labels

Mags

Management

The JangleBox Mixtape, LoFi-Dj

Mixtapes

The JangleBox en Facebook

The JangleBox en Twitter

The JangleBox en MySpace

Look for in The JangleBox:

Previously in The JangleBox

Jangle-Comments

Top-Jangle

Jangle-Visits

Feed The Jangle

RSS - Entradas
The JangleBox, 10th. Anniversary

Bands/Grupos