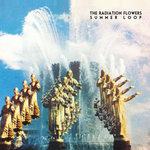 "Continuing with the softly heavy, brightly dark sounds they've come to be known for, Summer Loop takes on a noisier, guitar driven edge.
With the departure of their keyboardist after the release of their self-titled album, the full and textured guitar sounds of Shelby Gaudet and Christopher Laramee took an even more prominent role in band's sound, with drummer Amber Ross and bassist Jay Allen continuing to provide the rhythm and backbeat of the band. New keyboardist Lucas Goetz added some Hammond organ to songs "Just Go Away" and "Walking Down The Street" just in time for the vinyl release ofSummer Loop" (Press Note)
Psicodelia y Rock espacial a partes iguales. 
"The sound of elevation throbbed into a vertical sky, The Radiation Flowers (formerly Powder Blue) navigate the same sonic playground as influences Spacemen 3, The Brian Jonestown Massacre and The Cure, among many others. Guitar rock for northern lights and dark side mantras muttered in the drowsy light, these folks know how to get you off with minimal chords played to maximal effect. Like they say, "it's a sci-fi-hurricane kinda groove" (Press)
Jangle-Friends

Labels

Mags

Management

The JangleBox Mixtape, LoFi-Dj

Mixtapes

The JangleBox en Facebook

The JangleBox en Twitter

The JangleBox en MySpace

Look for in The JangleBox:

Previously in The JangleBox

Jangle-Comments

Top-Jangle

Jangle-Visits

Feed The Jangle

RSS - Entradas
The JangleBox, 10th. Anniversary

Bands/Grupos