Una rápida escucha a este Be Frank, Furness, el segundo trabajo de Heyward Howkins, nos revela rápidamente que en este álbum, Heyward ha optado por una vía más luminosa para su música, por unos horizontes más nítidos y cristalinos en su sonido. Aun encuadrado en un Folk-Americana, la música de Howkins se acerca más en este trabajo a la de Josh Rouse que a los panoramas algo más sombríos insinuados en su primer trabajo: The hale and hearty (TJB, Jul. 2012). 
Un disco interesante y fácilmente disfrutable con el que volver de nuevo la mirada al nuevo panorama Folk norteamericano, siempre interesante y siempre en constante movimiento.
"Though dark themes creep in as many of the songs' characters struggle and face the hardships of life, ultimately the album is defined by Heyward's embrace of the playful and celebratory. With melodies that pull you in (such as the buoyant album opener, "Nogales") and lyrics that evoke feelings and situations both specific and universal ("Then ran your first love Billy / All of ours really," Heyward sings in the Stacker Lee-infused "Praline Country")" (Facebook)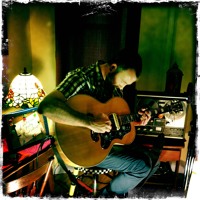 El último sencillo de Heyward Howkins nos llegó al mail no hace mucho. Se titula Praline country, un bonito título para una preciosa canción que discurre melosa entre las aguas serenas del mejor Folk-Pop facturado desde los Estados Unidos en los últimos tiempos. Mucho que ver, pues, con gentes como Bon Iver, Fleet Foxes, Dr.Dog…
El tema, además, no está incluido en su álbum publicado este verano: The hale & hearty (2012); sino que lo hará probablemente en un nuevo disco que aparecerá en este nuevo 2013. Buen momento, pues, para recordar a este cantautor-neo-trovador norteamericano.
El intimismo y la sensibilidad Pop a flor de piel son los protagonistas de la música de Heyward Howkins, un músico ya curtido que, sin embargo, con este The hale and hearty protagoniza su debut, tras varias aventuras previas acompañando a bandas.
Para oír este The hale and hearty está claro que tienes que desconectar, tomar asiento en tu sillón favorito, acomodarte física y mentalmente, evadirte de tus ocupaciones más cotidianas y centrarte tan sólo en el contenido sonoro del álbum, que, a la postre, es de esos que gana con las escuchas.
Su sonido oscila entre el Neo-Folk de gentes como Bon Iver, al Pop-Barroco más elaborado. Está disponible para adquirir o disfrutar desde su Bandcamp.
Heyward Hawkins – The hale and hearty (2012) 
"Hale & Hearty from the indie folk group Heyward Howkins is the debut LP for the band. Their origins lie in Philadelphia where the vocalist was inspired by life in and around the city. "Thunderin' Stop," song number one, sets the tone for this 11-track record, a song that is filled with jumpy guitars and high-pitched vocals that draw comparisons with those of Bon Iver. Old-school influences from blues to folk are prominent throughout the extent of this album. The musicians of Heyward Howkins put their own spin on these styles and bring them into the present with a multitude of layers built into each song.
On "Spanish Moss," the third track, the singer seems to plead for the welfare and preservation of his native city. He vividly describes the many plights that afflict urban Philadelphia and his inevitable urge to save it. The longing you feel within this singer's voice sparks a desire that almost makes you want to take part in his mission. Seeming to tell the story of summer romance with a depressing twist, "Sugar Sand Stitched Lip" is one of the better pieces by Heyward Howkins. The group does what they do best by provoking the listener into a lovesick sulk and personifying the loneliest of emotions.
"The Raucous Calls Of Morning" is a perfect example of the full-bodied, layered songs that this group can do so well. Female backing vocals and a piano accompanying the melody makes for an intense track, which essentially becomes the anthem behind the whole record. The eighth song, "Flash Mob" is a fast-paced number that crosses over and becomes a favorable indie pop jam. Accented by horns, "Hudson Pier" is an all-around intriguing song, telling the story of a pier from previous times. This track makes you feel inexplicably sad while listening and is a great way for the record to bow out" (theaquarian.com)
Jangle-Friends

Labels

Mags

Management

The JangleBox Mixtape, LoFi-Dj

Mixtapes

The JangleBox en Facebook

The JangleBox en Twitter

The JangleBox en MySpace

Look for in The JangleBox:

Previously in The JangleBox

Jangle-Comments

Top-Jangle

Jangle-Visits

Feed The Jangle

RSS - Entradas
The JangleBox, 10th. Anniversary

Bands/Grupos