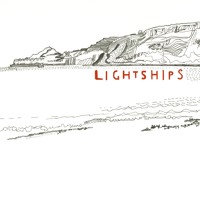 Ensueños
Grabado con el mismo personal y en las mismas sesiones que su debut: Electric cables (2012), Fear and doubt no es más que la lógica continuación, conceptual y musical de aquel debut en solitario de Gerard Love, el 33% de Teenage Fanclub. Sus temas se mueven en la misma nebulosa Pop etérea rayana al Dream-Pop y a sonido más florido. La calma y un cierto estatismo presiden los cuatro cortes de este disco que bien podrían haber sido incluidas en Electric cables, y de hecho Silver and gold era uno de los temas que se encontraban en él.
__________________________
"For those Teenage Fanclub fans who have always held a torch for Gerard Love's songcraft, his Lightships project holds great potential, allowing his gorgeously dreamy melodies to take centre stage. The four tracks on this EP have the same intoxicating quality of his earlier work, but Lightships eschew Teenage Fanclub's guitar-heavy sound, opting for a more washed-out, ethereal approach.The end result can sometimes feel slightly lacking in definition, particularly on the reverb-soaked Cavalcade; Lightships are most effective on Silver and Gold, which juxtaposes verses of wispish fragility with a robust, stomping chorus, laced with fuzzy guitars. Love remains one of the most melodically-gifted songwriters around, and as the highpoints here demonstrate, he's still capable of embellishing his compositions with new ideas" (theskinny.uk.com)
Antes que nada, me gustaría hacer una reflexión sobre el universo informático que nos rodea. Esta misma mañana he descubierto que han clausurado otro blog: Dr. Kale y Mr. Jack, una sabia fuente de información y de buen gusto musical, en esta ocasión proviniente de uno de nuestros amigos blogueros. Como cada vez que ésto ocurre, se me quitan todas las ganas de escribir nada que no sean imprecaciones e insultos contra los responsables. Pero en esta ocasión será diferente. Me estoy planteando seriamente limitar los enlaces de descarga tan sólo a aquellos que los artistas ofrezcan para su descarga gratuita. Creo que no merece la pena sacrificar horas de mi tiempo haciendo algo que me encanta como es la crítica musical y compartir mis gustos melómanos con cualquiera, en pos de que repentinamente, la plataforma que nos acoge tenga el deseo de clausurarnos nuestra publicación. Publicación que, por otra parte, con sus cuatro años ya cumplidos, está más sana que nunca, con continuas aportaciones musicales de bandas y sellos musicales que, o bien empiezan, o bien desean compartir con todos vosotros, lectores, su música. Es por ello que me estoy planteando muy seriamente convertir a The JangleBox en un magazine de crítica musical salpicado con descubrimientos y aportaciones musicales. Se admiten sugerencias y comentarios.
Por lo demás, Lightships, como muchos sabréis, se trata del proyecto paralelo de Gerard Love, es decir, el 33,33 por ciento de Teenage Fanclub, una de nuestras bandas favoritas de siempre. ¿Qué quiere decir ésto? Pues que casi con toda seguridad, nos encontraríamos ante un producto de buena calidad, bien facturado y desde luego con un exquisito gusto por el Pop. No íbamos mal desencaminados. Electric cables (2012) es un disco muy bello, precisa y preciosamente facturado. Es algo así como el resultado de una reunión de amigos en un fin de semana en una casa en el campo que se juntan para tocar un repertorio totalmente nuevo para ellos, donde cada uno pueda aportar su granito de arena a las canciones, ya de por sí bastante compactas y bien elaboradas.
Esta "reunión de amigos" se compuso del propio Gerard Love, más Brendan O´Hare (batería seminal de Teenage Fanclub), Dave McGowan, guitarrista también habitual colaborador en directo de TFC;  Tom Crossley, flauta (International Airport, The Pastels) y Bob Kildea, bajista de Belle and Sebastian. Es decir, amigos de toda la vida del entorno de Glasgow, que debe ser algo así como la patria chica del Pop-Folk sensible y bien elaborado.
Electric Cables es un buen disco, aunque no un disco de diez. Tiene muchos puntos positivos, pero algunas que otras lagunas que, afortunadamente, podemos pasar algo por encima. Sus canciones son grandes composiciones, como no podía ser menos de alguien que ha compuesto temas clásicos como Sparky´s dream o Star sign, auténticos himnos generacionales. Los temas de Electric cables son como remansos de paz en un oasis de Pop luminoso. Que nadie espere ya la energía de los primeros álbumes de TFC ni mucho menos la rabia Noise de aquellos trabajos. Ni siquiera el sarcasmo de muchos de sus temas. Los temas de Lightships hablan de las relaciones, del arrepentimiento, de sentimientos, y todas ellas fluyen como un riachuelo enmedio de un bosque primaveral: Two lines, Sweetness in her spark, Every blossom, The warmth of the sun, Girasol, Stretching out, Photosyntesis… son buena prueba de ello. Las guitarras no son las protagonistas del disco: donde pensaríamos encontrarnos con rasgueos distorsionados, lo hacemos con frases de flauta, con teclados etéreos y limpios, con líneas arpegiadas y con una instrumentación ensoñadora que es la que al final se adueña del disco.
¿Las objeciones al disco? No me gustaría decir nada negativo de un trabajo de un componente de TFC, pero precisamente esa ensoñación de la que hablaba es la que se adueña finalmente de este trabajo. Gerard Love se ha instalado en una cómoda tranquilidad que hace que casi todos los temas tengan la misma velocidad de crucero. Los ritmos se hacen a veces un tanto cansinos y repetitivos, lo que hace que una escucha total a Electric Cables se haga demasiado larga.
Por lo demás, si te gusta el Pop elegante, luminoso, hedonista, de influencias sesenteras y desde luego, amas la música, Electric Cables puede ser tu disco.
Lightships – Electric Cables (2012)
"It's no secret that within Domino there is a lot of love for Teenage Fanclub, and that some members of staff have a special fondness for the songs of singer, songwriter and bassist, Gerard Love.  In recent times, Gerard has been very much part of The Pastels, who operate occasional Domino imprint, Geographic.  The idea of an album of Gerard Love songs burned for a long time until eventually label enthusiasm prevailed, and Gerard agreed that it was an idea that he too was excited about.
From the outset, Gerard was clear that he wanted to establish a group name for the record, a name that was evocative and ambiguous, that could somehow place the music within a slightly blurry and imagined context.  He didn't want to give the impression that the record was just about him.  Having settled on the name, Lightships, he sought out a cast of Glasgow-based friends to play on the record that was starting to take shape in his head; Dave McGowan (guitar, Teenage Fanclub), Brendan O'Hare (drums, from the first incarnation of Teenage Fanclub), Tom Crossley (flute, International Airport and The Pastels) and Bob Kildea (bass, Belle & Sebastian).
Liberated by a feeling that he had complete carte blanche to do whatever he wanted, Gerard came to a realisation that the key to the sound of the record would be tremolo, delay and flute. At times the record has the dynamics of a soundtrack, as one of Tom Crossley's flute lines weaves into the ether and Gerard's vocals bounce off each other. Or, as on "Sweetness In Her Spark", the group lock into a relaxed and breezy groove that demands the windows be flung open.
Lightships is a name that perfectly captures the atmosphere of the music – sparkling and radiant and illuminated throughout by Love's melodic gifts and taste for adventurous arrangements.  The overall sound, while as warm and immediate as the songs Gerard writes for Teenage Fanclub, is more free flowing and loose. "Muddy Rivers" is carried along on a wave of interlocked instrumentation while "Photosynthesis" is a hazy wash of flutes and echo.  On "Silver And Gold", Gerard sings with a falsetto before a chorus of harmonies bursts into life.  With this music it's as if he was looking to express something more personal, eccentric and introspective.
Electric Cables is an album of tender, observational songs, played with an invigorating and easy sense of purpose; the sound of friends enjoying one another's company and allowing ideas and experiments to flourish.  It's a complex and rewarding record that you'll want to keep coming back to.  Slow illumination" (Domino Records)
"My name is Gerard Love. I live in Glasgow. 
I play bass guitar in a group called Teenage Fanclub.
For the last few years, with the help of some friends, I've been making an album.
This record is now finished. It will be called Electric Cables. 
The name of the project is Lightships.
Recently I was encouraged to start a blog. 
This is the blog" 
Con estas breves palabras se presenta el blog y el proyecto de Gerard Love (Teenage Fanclub): Lightships. Su disco de debut se va a titular Electric cables y aparecerá el próximo mes de Abril, y por lo pronto dos temas deliciosos: Sweetness in her spark y Two lines. Con tan sólo mencionar el nombre de Teenage Fanclub nos podemos imaginar que Lightships será sinónimo de calidad, buen gusto y mejor hacer. Aunque aún hay que esperar, estos dos adelantos son impresionantes.
Jangle-Friends

Labels

Mags

Management

The JangleBox Mixtape, LoFi-Dj

Mixtapes

The JangleBox en Facebook

The JangleBox en Twitter

The JangleBox en MySpace

Look for in The JangleBox:

Previously in The JangleBox

Jangle-Comments

Top-Jangle

Jangle-Visits

Feed The Jangle

RSS - Entradas
The JangleBox, 10th. Anniversary

Bands/Grupos