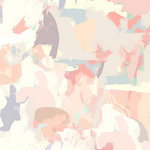 Holy Wave son un quinteto de Austin que practican una suerte de Psicodelia suave mezclada con elementos de Shoegaze y un sonido algo añejado, formando una interesante mezcla que entra a los oídos meciéndose suavemente.
"On their second album, Freaks of Nurture, the Texas quintet Holy Wave steer their way through the psychedelic waves with a steady hand and a suitably foggy mindset. Filling their pleasantly hooky tunes with layers of fuzzy guitars, reverb-soaked guitars, organ swells, hypnotic bass throb, and very laid-back vocals, the album is a slight improvement on their previous work and ranks with the strongest work of their tripped-out contemporaries. Mixing long, droning songs that ebb and flow like the best psych-y dream pop with shorter, more focused tunes that bring to mind paisley underground heroes the Rain Parade, the record never settles into the kind of dazed autopilot one might expect from a group so relaxed. It helps that the long songs actually build into something impressively dramatic, especially the album-opening "She Put a Seed in My Ear" and the majestic ballad "California Took My Bobby Away," which sounds like a great lost shoegaze track. The band really gets into some deep and resonant territory here as the instruments and vocals lock into highly satisfactory grooves and the sound floods the listener's senses with warm, soothing feelings. The hookier tracks really stand out in this environment; the jangling, paisley-clad "Wendy Go Round" shows right away that Holy Wave have upped their game in the song department. Further examples of this upgrade can be found on the murkily rampaging rocker "You Should Lie" and the spooky-sweet "Minstrel's Gallop," which closes the album on a nice relaxed note. The band sounded just fine before, quite properly psychedelic and dream state-y; on Freaks of Nurture they have made all the right moves to jump themselves out of the pack and up near the front of the line of their fellow time-traveling freaks" (All Music)
The Reverberation Appreciation Society is proud to present Holy Wave's "Evil Hits" which compiles our favorite 5 tracks from the band's 2011 LP "Knife Hits" and all 5 tracks off their 2012 EP "The Evil Has Landed" onto a vinyl release coming February 2013 and a cassette co-release with our friends at Burger Records.
Jangle-Friends

Labels

Mags

Management

The JangleBox Mixtape, LoFi-Dj

Mixtapes

The JangleBox en Facebook

The JangleBox en Twitter

The JangleBox en MySpace

Look for in The JangleBox:

Previously in The JangleBox

Jangle-Comments

Top-Jangle

Jangle-Visits

Feed The Jangle

RSS - Entradas
The JangleBox, 10th. Anniversary

Bands/Grupos