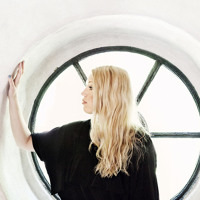 El Pop de Josefina Sanner es algo así como una revisión de viejos clichés clásicos y no por ello menos apreciados. El sonido sesentero, el compromiso musical de los ochenta, y en general un bonito aire Retro, al que contribuyen esos arreglos de cuerda. Do you remember es el sencillo que anticipa su segundo trabajo: These beads of blue, que aparecera este mismo mes y estará cantado en sueco e inglés.
"In spring 2012 released her first compilation albm, entitled "Sirens", from which the single "Don't Stop" rotated on Swedish National Radio and reached the college radio top ten in Sweden, as well as being mentioned on widely acclaimed blogs all over the world. This was followed up in November with new studio album "These Beads Of Blue", produced by Andreas Dahlbäck (Anna Ternheim, TAW), which came out to critical praise in the Swedish press.
Upsala Nya Tidning said the album was a "exceptionally good album from the beginning to the end" and awarded it with 4 stars.. Just as impressed were Värmlands Folkblad who said the album was "Josefina's strongest so far" – another 4 star review! More fine reviews follow in Gaffa, Joyzine.se, Zero Magazine, Rootstime as well as air play on international stations such as Amazing Radio (UK), Penguin Radio (US) and Radio Compagnie (NL). The single "Clock Stand Still" also found a foot hold on national Swedish Radio P4 during the late days of fall.
This spring we'll find Josefina working on new material, both sung in Swedish and in English. What it'll result in time will tell! In the aftermath of the success of last fall we're releasing on more single from "These Beads Of Blue". The sprawling "Do You Remember" was one of the tracks that most frequently were mentioned in the media and on February 10th it's finally out as a single!" (Soundcloud)
Un singlecito de regalo para el día de hoy. El regalo nos llega vía Birds Will Sing for You, la discográfica sueca que de vez en cuando nos alegra la bandeja de entrada del correo con canciones como ésta. Su catálogo es de lo más variado, y en esta ocasión nos presenta a una voz realmente personal, la de Josefina Sanner, cantante sueca que nos ofrece este Don´t stop, un bonito tema aderezado con contrapuntos de vibráfonos y celestes. Os dejo el enlace.
Jangle-Friends

Labels

Mags

Management

The JangleBox Mixtape, LoFi-Dj

Mixtapes

The JangleBox en Facebook

The JangleBox en Twitter

The JangleBox en MySpace

Look for in The JangleBox:

Previously in The JangleBox

Jangle-Comments

Top-Jangle

Jangle-Visits

Feed The Jangle

RSS - Entradas
The JangleBox, 10th. Anniversary

Bands/Grupos