#TheJangleBox #NovedadesTheJangleBox #PopEspañolTheJangleBox#DescubreTheJangleBox #RememberTheJangleBox
La tripulación del Capitán Excuse se ha desbandado, y el Capitán ha tomado un nuevo rumbo en su trayectoria creativa, esta vez bajo el nombre de COMMUTER MUSIC, un alias bajo el que se oculta el Post-Folk de un músico completamente ajeno a modas y a estilos, que lo mismo mezcla experimentación con electrónica que Folk con tonos más Indies.
El primer adelanto de un disco que promete nuevas sorpresas, una nueva vuelta de tuerca sobre su ya clásico Folk-Rock de la Bahía.
#TheJangleBox #DescubreTheJangleBox #NovedadesTheJangleBox #PopEspañolTheJangleBox
Un ciclo perfecto. Una estación completa. Una especie de vida en miniatura. The Sheltering Sky resume en sus más de quince minutos lo que la música de CAPTAIN EXCUSE & HIS CROOKED CREW expresa a día de hoy: una gozosa recreación en lo mejorcito del Pop de raíces Folkies, que comienza de forma inquietante, pero va tomando forma poco a poco, agrandándose y cobrando nueva vida. Un tema en expansión, que cambia de tono conforme pasan los minutos y que termina en una radiante explosión, aunque con esa inquietud que el Capitán suele dejarnos ("An endless parade of frozen days / A reminder of what could have been but never will"). Una canción de las de antes, de las que se hacen desde la independencia, desde ese no tener que rendir cuentas a nadie, si acaso a tu propia expresividad.
Supermoon, sin embargo, musicalmente es más un retorno a los orígenes del Capitán. Nos evoca aquellos tiempos en los que el sonido anglosajón dominaba la escena musical. Una canción de estructura Pop perfecta, de desarrollos exactos que probablemente tenga origen en una concepción mucho más acústica y folk, como nos queda reflejado en los últimos segundos de la misma. Si he de ser sincero, me quedo con esa armónica y esa sencillez adornada de las distorsiones justas que hacen de esta súper luna un ideal inalcanzable ("I thought you could do so much better / But settled for the scum of the earth" ).
The Sheltering Sky / Supermoon es, pues, un sencillo para disfrutar con calma, con relax. Problablemente nunca lo encontrarás en una playlist de las que ahora nos perturban. Qué más da. La música de la Tripulación Maldita es para disfrutarla y saborearla. Los mortales quedarán en la tierra a otras historias.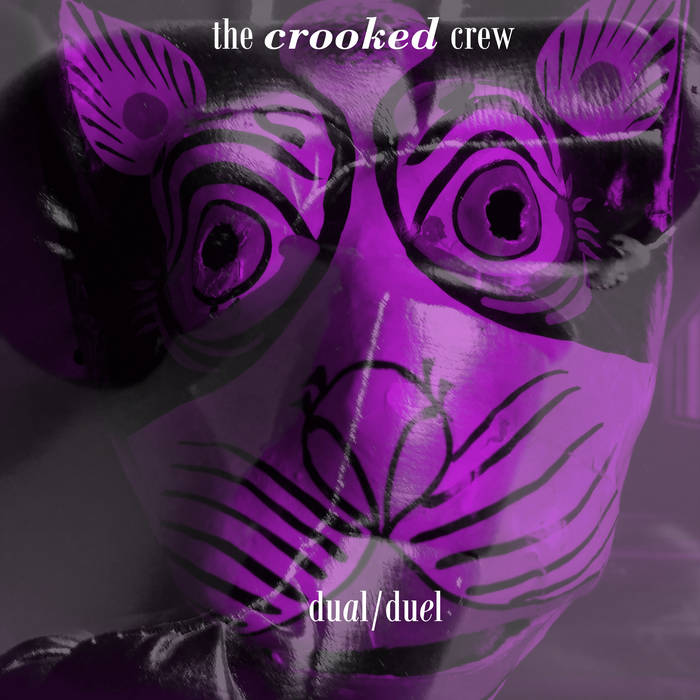 #TheJangleBox #DescubreTheJangleBox #NovedadesTheJangleBox #PopEspañolTheJangleBox
Dual/Duel es algo así como un viaje hacia nuestras interioridades, hacia nuestras entrañas. Un viaje pausado, un remanso sonoro en medio del tumulto de ondas hertzianas, de informaciones, de ruidos, e incluso de músicas que nos invade a diario; aunque, efectivamente, empleando esa dualidad que se nos anuncia en su título.
Si con esos saxos que parece que nos despiertan en Let them ring nos iniciamos hacia ese periplo interior; en cortes como Nihilistic desilusions el Capitán nos muestra un camino aparentemente más florido hacia ese hogar, ese agridulce hogar que nos acogerá definitivamente en la fantasmagoría obsesiva de Hidden intentions. El sentido dual de este periplo de Dual/Duel nos conduce en Decadence a esa paz interior que definitivamente se encuentra en el ritmo de marcha de Please deliver. La vida contiene esos altibajos. El viaje del Capitán es un reflejo más de ello. Las emociones van y vienen, y eso mismo ocurre con las composiciones de este disco.  En cualquier caso, éste finaliza con el mensaje de The greatest, quizás la canción más sencilla y probablemente más bella del conjunto. Una forma de indicarnos que esa idea del viaje continuará en breve. Para ello, The Crooked Crew se vale de Diminishing returns, una preciosa pieza instrumental que cierra ese círculo, ese viaje interior. Para darle forma sonora a Dual/Duel, Capitán Excuse se vale de una instrumentación y de unas influencias decididamente clásicas, solemnemente folkies: huele "a madera" a lo largo del álbum. Ahora, el oyente (o lector), debe ser quien extraiga las conclusiones que le resulten más convenientes.
ALGUNAS IMPRESIONES…

1.- Dime a dónde crees que te lleva o llevará el mundo de la música hoy en día, en el estado de madurez creativa en el que te encuentras.
Honestamente, no espero que nos arrastre a ningún sitio. Tenemos el privilegio de poder trabajar desde una plataforma totalmente independiente. El hecho de que tu producto pueda ser ignorado o alabado por las masas es algo que se escapa de nuestras manos y tampoco nos quita el sueño. Hay quien se conforma con unos cuantos "likes", los que se empeñan hasta la saciedad en repetirte que bien se lo pasan en el escenario tocando para un público prácticamente inexistente. Cada vez que damos por terminado un proyecto, nos desconectamos y empezamos a pensar en el siguiente. Los músicos de nuestra generación saben que no hay dinero ni fama en la escena actual, lo cual nos lleva a tu segundas pregunta…

2.- Y ésta, como intuyo la respuesta de la primera, tiene su relación: ¿Cuáles son tus motivaciones que encuentras actualmente para seguir componiendo?
Ni más ni menos que el manido "amor al arte" por pretencioso que parezca. La tecnología de hoy en día en un arma de doble filo. Te permite crear desde tu hogar un producto prácticamente profesional. Lo cual condiciona que el mercado esté saturado de productos de todo tipo y estilo en tantas plataformas de tal forma que los árboles no te dejan ver el bosque. ¿Dónde puedo encontrar el que a mi me interese entre toda la maraña de digamos "subproductos"?

3.- ¿Tienen tus canciones una idea de viaje (no sé si a ninguna parte) o son sencillamente un reflejo de cómo ves las cosas a los ´50 ? (Si te parece no es necesario señalar la edad, jajajajajaja…)
El viaje a ninguna parte o como moverte sin salir de casa… La idea del movimiento ha sido una constante en mis temas. La idea de permanecer en un lugar ( creativo) me repele. Intento no repetir el mismo disco una y otra vez el viaje debe ser siempre hacia delante, valiente y sin concesiones. Si tus necesidades emocionales son las mismas a los 50 que eran cuando tenías 20, es que estás haciendo algo mal.

4.- ¿Es esa decadencia del corte 4 real, un sentimiento propio o sencillamente una pose poética/musical ? Todo pose…mi vida es muy relajada y lejos del mundanal ruido…por ello no siempre escribo en primera persona. Sería aburridísimo. Hoy es difícil diferenciar a los verdaderamente creadores de aquellos que se calzan el uniforme de rebelde. Las estrellas se ganan en las redes sociales y por la cantidad de tinta que llevas en la piel. Antes era más fácil saber quien pertenecía al gremio…
El mundo suburbano vive otra clase de decadencia más, digamos mundanal y aceptada. Te hablo de obras que me han marcado e inspirado como la literatura de Richard Yates, Raymond Carver, John Cheever… esa Decadencia de beber Martinis a medio día, infidelidades en la oficina, sueños de juventud rotos etc. La mediocre vida del ciudadano medio. lo cual nos lleva a la siguiente pregunta…

5.- La inevitable pregunta de cualquier músico frustrado (jjjjjjjjjjjj) Háblame de cuales son tus influencias "actuales" de tu música. Tu disco me suena muy clásico, tiene mucho del folk tardo sesentero o de ciertos grupos de comienzos de los setenta. No sé si ando muy desencaminado…
Admito que en los últimos años me siento más atraído por la literatura que por la música. La literatura tiene aún la capacidad de impresionarme y abatirme que un día tuvo la música. Cuando se trata de nuevas músicas no puedo evitar la sensación de Deja Vu. De haber estado allí ya, de haberlo vivido en primera persona. ¿Sueno a perro viejo..? si es así es porque lo soy…
Admito que lo que he escuchado últimamente y que efectivamente ha influenciado este disco pertenece al llamado Folk rock de finales de los 60 y comienzos de los 70. Fairport Convention, Bert jansch, John Martyn, las producciones de John Boyd etc. Discos que suenan a Madera, que huelen a personas interactuando, algo a lo que se aspira pero que sabes no estás destinado para ello. Seguramente, el próximo disco será algo más abstracto y conceptual, probablemente instrumental y atmosférico. Cuando eliminas el punto focal de la voz, aparecen otros matices que normalmente pasas por alto.

6.- ¿Cuál es el sentido final que le das al disco…? Quiero decir, piensas que es un disco optimista o crees que es un trabajo para dedicarle minutos y más reflexivo… Yo lo veo como una mezcla entre ambas perspectivas. Algunas canciones tienen un aire y arreglos muy alegres, muy folkies, mientras que otras tienen un mensaje más oscuro. Creo que el disco es coherente consigo mismo, si eso tiene sentido. La instrumentación varía según los temas pero la producción y el trasfondo es similar. No soy una persona muy optimista por naturaleza, lo cual me convierte en un…"realista"? con los pies en el suelo y la cabeza en las nubes. Admiro enormemente a los compositores que pueden contarte una historia de forma lineal, con principio y fin. Desafortunadamente, ese no es mi caso. El mundo no necesita más mensajes. Solo quiere mensajeros a los que colgar del árbol más alto…

(Captain Excuse, July, 2018)
Jangle-Friends

Labels

Mags

Management

The JangleBox Mixtape, LoFi-Dj

Mixtapes

The JangleBox en Facebook

The JangleBox en Twitter

The JangleBox en MySpace

Look for in The JangleBox:

Previously in The JangleBox

Jangle-Comments

Top-Jangle

Jangle-Visits

Feed The Jangle

RSS - Entradas
The JangleBox, 10th. Anniversary

Bands/Grupos