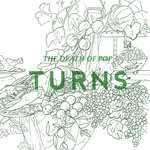 Un segundo recopilatorio en el que se reúnen temas inéditos de los londinenses The Death of Pop: demos, canciones incluidas en sencillos y Ep´s e incluso adelantos. "Pop de guitarras, psicodelía shoegaze, indiepop, melodías celestiales, canciones redondas"
The Death of Pop acaban de publicar este último sencillo, en el que los londinenses continúan ofreciéndonos su característica visión del Shoegaze, a través de cristales de aumento y cierto halo de deformidad psicodélica.
Estos londinenses denominan a su sonido Janglegaze. En su música podemos rastrear ecos Shoegazers, Dreampop, flangers ochenteros…
En este Two thousand and thirteen, TDOP recopilaron todas las canciones que fueron editando digitalmente durante el año pasado.
Jangle-Friends

Labels

Mags

Management

The JangleBox Mixtape, LoFi-Dj

Mixtapes

The JangleBox en Facebook

The JangleBox en Twitter

The JangleBox en MySpace

Look for in The JangleBox:

Previously in The JangleBox

Jangle-Comments

Top-Jangle

Jangle-Visits

Feed The Jangle

RSS - Entradas
The JangleBox, 10th. Anniversary

Bands/Grupos