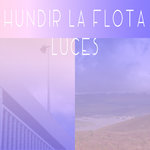 Pablo Rodríguez es el responsable de la música de Hundir la Flota, un concepto musical basado en el Electro, el Ambient, la Acústica, y, como él mismo afirma: el Pop Psicodélico, lo que le acerca por momentos a presupuestos Shoegazers.
Su último trabajo es este Luces, un mini álbum que acaba de ser publicado este pasado cinco de mayo.
El proyecto de Pablo Rodríguez y Pablo Daniel Costa se llama Hundir la Flota. Ya los conocemos en The JangleBox, y acaban de editar este sencillo titulado El sol de Granada (Single, 2012). Personalmente, me atrae mucho el sonido del grupo, esa mezcla de Shoegaze denso y Psicodelia arrastrada que me engancha desde la primera escucha. Con este single, HLF inciden en sus presupuestos ideológicos y musicales. Supongo que la aparición de su debut en disco grande será inminente. Este single, de relajada lisergia, anuncia algo muy bueno.
Por cierto, su portada, por evidente, me recuerda una barbaridad a la de un antiguo sencillo de Los Puntos: Llorando por Granada de 1974. Evidentemente no pretendo establecer ningún tipo de comparación. ¡Sería odioso!
Hundir la Flota – El sol de Granada (Single, 2012)
Facebook / Descarga legal gratuita-Free legal download
Como dicen Hundir la Flota en su primer disco: "Próxima estación": Indie nacional. Como casi cada lunes, le dedicamos el espacio Janglie al Indie hecho en nuestro país.
Hoy, el debut de Hundir la Flota, el proyecto de Pablo Rodríguez, alma mater de la banda, compositor y productor; acompañado del batería de Dolores: Pablo Daniel Costa, y de Dani Híjar, quien toca el bajo en directo.
Este De lo que no se puede hablar (2011), es una recopilación de seis de los mejores temas aparecidos previamente en sus maquetas. Seis temas en los que la banda se pasea calmada, gustosa y relajadamente a través del Shoegaze, del Kraut y del Noise. Canciones nada ansiosas, pausadas, con letras reflexivas e instrumentación perfectamente ajustada. Puedes hallarles cantidad de afinidades (My Bloody Valentine, Neu!, Radiohead, Kraftwerk, Planetas…) pero a mí particularmente me recuerdan, más que nada por su huella Psicodélica a una banda de los noventa comentada en The JangleBox: los vallisoletanos Rosas en Blanco y Negro. Una banda que pasó casi desapercibida por el panorama musical del momento. Esperemos que no les pase lo mismo a Hundir la Flota. Calidad y talento tienen de sobra.
Hundir la Flota – De lo que no se puede hablar (2011)
Facebook / Descarga legal gratuita-Free legal download
Jangle-Friends

Labels

Mags

Management

The JangleBox Mixtape, LoFi-Dj

Mixtapes

The JangleBox en Facebook

The JangleBox en Twitter

The JangleBox en MySpace

Look for in The JangleBox:

Previously in The JangleBox

Jangle-Comments

Top-Jangle

Jangle-Visits

Feed The Jangle

RSS - Entradas
The JangleBox, 10th. Anniversary

Bands/Grupos