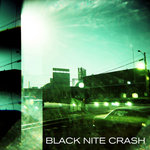 #TheJangleBox #NovedadesTheJangleBox #DescubreTheJangleBox
Me encanta su nombre. Rinde tributo a uno de los temas que más me gusta de Ride. Y un poco hace mención a sus señas de identidad más relevantes: Pop de guitarras, composiciones rotundas y melodías pegajosas. BLACK NITE CRASH se desenvuelven con soltura entre el Emo, el Shoegaze y el Noise, adornando el conjunto con los tintes justos de Psicodelia. Tienen un bagaje más que convincente lo que no les ha servido para dar el salto a las Major Leagues, aunque a estas alturas a todos nos de igual. Oyendo canciones como A different Light, The things we do, I can raise the dead, Poison cup, Make a sound, New camera toy o The times the names and places BNC sí que entra, y de lleno, en la Premier de nuestras bandas favoritas. 
Con un nombre como ése, era imposible que mis ojos no desviaran la atención hacia la banda titular del mismo. Black Nite Crash es un nombre tremendo para una banda, que lo toman directamente del corte que abre el epitafio musical de Ride, el denostado Tarantula, disco que, por cierto, a mí me gusta mucho.
Pues bien, BNC (en adelante obvio escribir su nombre en su totalidad), son una banda con referentes evidentes en los de Oxford, aunque su Fuzz-Pop en momentos nos evoque a otros grandes del género: JMC, Black Rebel Motorcycle Club, The Pixies, The Church…
Lo cierto es que su música, tiene mucho de esas referencias, pero lamentablemente, a lo largo del álbum divaga algo erráticamente por autopistas de distorsión y,  a fuerza de ser sinceros, su interés va decayendo conforme avanza el disco.
_________________________
"Seattle's Black Nite Crash have just unleashed the successor to 2008's debut album "Array". Admittedly, I've been looking forward to this eagerly, and – to disclose my conclusion upfront – I'm sold. While listening I felt reminded of my trip through Death Valley some years ago. It was late afternoon, sunset was dominating the landscape, and Las Vegas was close. Black Nite Crash's music fits right into this picture; their opalescent yet dark blend of psychedelic rock and shoegaze creates an arcane atmosphere that grabs your psyche right from the start, you get caught up in their wall-of-sound maelstrom of fuzzy riffs, tingly noise injections and seductive melodies. Add Jim Biggs' nonchalant, charismatic vocals, a crackling production and a varied face – you got everything from gritty uptempo rockets like "Silent Town" to atmospheric ballads ("Atmopshere", including female guest vocalist Amber Bergstrom). If you imagine The Jesus And Mary Chain (listen to "Baby It's You" and "Delusion Blues"), The Church, My Bloody Valentine and Pixies jamming together in a room at night and dig this idea, I recommend you check this album out" (Clank for Breakfast)
Cuando una banda se llama Black Nite Crash está claro que a servidor la vista se le tuerce y presta atención a sus sonidos, para ver qué se cuece. Reconozco que no les conocía, pero he de reconocer también que la única coincidencia con Ride estriba en cierta afinidad sonora, cierto acercamiento a un género de sobras conocido. Los de Seattle son una banda mucho más oscura. Oyendo Baby it´s you evidentemente, uno se plantea escuchar atentamente el resto del disco, pero esta tarea es algo más ardua.
Está claro que BNC son una banda de planteamientos Shoegazers, pero su música es más cercana a The Church que a My Bloody Valentine o a los clásicos del género. Para emparentarlos con alguna de las bandas coetáneas, A Place to Bury Strangers serían su referente más cercano. En su disco hay algunos momentos puntuales, pero a mi parecer, poco más: Baby, it´s you; Desilusion blues, Silent town, Blink of an eye…
_________________________
"Seattle's Black Nite Crash have just unleashed the successor to 2008's debut album "Array". Admittedly, I've been looking forward to this eagerly, and – to disclose my conclusion upfront – I'm sold. While listening I felt reminded of my trip through Death Valley some years ago. It was late afternoon, sunset was dominating the landscape, and Las Vegas was close. Black Nite Crash's music fits right into this picture; their opalescent yet dark blend of psychedelic rock and shoegaze creates an arcane atmosphere that grabs your psyche right from the start, you get caught up in their wall-of-sound maelstrom of fuzzy riffs, tingly noise injections and seductive melodies. Add Jim Biggs' nonchalant, charismatic vocals, a crackling production and a varied face – you got everything from gritty uptempo rockets like "Silent Town" to atmospheric ballads ("Atmopshere", including female guest vocalist Amber Bergstrom). If you imagine The Jesus And Mary Chain (listen to "Baby It's You" and "Delusion Blues"), The Church, My Bloody Valentine and Pixies jamming together in a room at night and dig this idea, I recommend you check this album out" (clankforbreakfast.tumblr.com)
Jangle-Friends

Labels

Mags

Management

The JangleBox Mixtape, LoFi-Dj

Mixtapes

The JangleBox en Facebook

The JangleBox en Twitter

The JangleBox en MySpace

Look for in The JangleBox:

Previously in The JangleBox

Jangle-Comments

Top-Jangle

Jangle-Visits

Feed The Jangle

RSS - Entradas
The JangleBox, 10th. Anniversary

Bands/Grupos