Arts & Leisure son una banda ya conocida en TJB que suele facturar sonidos amables y cercanos al Twee-Fuzz mezclados con elementos sixties y cierta dosis de crudeza que nos agrada bastante.
Su último lanzamiento vía Test Pattern Records se llama Weekend/Over you, un 7″ que nos vuelve a acercar los sonidos de esta banda de Sacramento.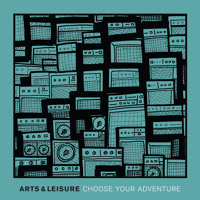 New Leisures
La relación entre Art & Leisure y Baby Grand es grande. Para empezar, toman el nombre del título del último trabajo de aquellos, reseñado en TJB la primavera del año pasado. Son varios miembros de la banda original, y, aunque la esencia continúa más o menos invariada, han cambiado algo el envoltorio, convirtiéndose en una banda algo más contemporánea, dando más preponderancia a las guitarras distorsionadas sobre el arreglo sesentero o sobre el guiño Retro.
Las composiciones, sin embargo, podían pasar por pertenecer a su antigua etapa si obviamos ese envoltorio:  Toria, The river, Seconds from flight, Wolf pack, City life, Hello… pero evidentemente, con una cierta actualización y puesta al día.
Con este pequeño paso, se acercan más a los planteamientos de Veronica Falls, Best Coast, The Primitives o Heavenly que a los de Belle and Sebastian o Camera Obscura.
En una u otra faceta, Arts & Leisure resultan una banda de lo más amena y disfrutable.
__________________________
"Choose Your Adventure is the debut album from Sacramento, California's, Arts & Leisure. Formed in 2011 by founding members of the orchestral pop outfit, Baby Grand, Arts & Leisure strips things down to the basics (two guitars, bass and drums), but ups the ante (and volume) with two singer/songwriters, Gerri White and Becky Cale. The band also features former Baby Grand members Cory Vick on guitar and Tim White on drums.
Produced by Tony Cale (the English Singles), Choose Your Adventure combines elements of '60s pop, '70s power pop, '80s new wave, and '90s shoegaze, all of which helps to craft the group's own brand of buzzy, hook-laden dream-pop. Here, the songs ride a rollercoaster of sound where the hushed and bittersweet can turn in a beat to exhilarating and anthemic. The band's lush harmonies and addictive melodies invite comparisons to artists such as The Breeders and The Primitives, but ultimately Arts & Leisure has a style all its own.>
This summer, Arts & Leisure played several shows in the U.K. and Belgium, making new friends in such cities as Glasgow, London and Antwerp. Along the way they got to play with such artists as Gordon McIntyre (Ballboy), Northern Spies, Woog Riots and Tyrannosaurus Dead. Stateside, they've also played with the Crystal Stilts, The Orange Peels, Still Flyin', and Phil Wilson & The June Brides.
The band's song "Seconds From Flight" is featured on the 2013 season premiere of the CBS hit show The Good Wife, and the album as a whole has received critical accolades.
The UK-based magazine 247 called Choose Your Adventure a "faultless debut," praising the band's "excellent songwriting, quirky guitar lines and fantastic harmonies … People need to find out about this band, and quickly."
Likewise, Big Takeover magazine raved about the band's "bubble-gum catchiness," as well as the way "sumptuous singer Gerri White's sighing coo is now paired with equally exquisite co-vocalist Becky Cale."
Indie pop, power pop, dream pop—whatever you call it, this is a sound that will have you singing along on your stereo" (Press)
Jangle-Friends

Labels

Mags

Management

The JangleBox Mixtape, LoFi-Dj

Mixtapes

The JangleBox en Facebook

The JangleBox en Twitter

The JangleBox en MySpace

Look for in The JangleBox:

Previously in The JangleBox

Jangle-Comments

Top-Jangle

Jangle-Visits

Feed The Jangle

RSS - Entradas
The JangleBox, 10th. Anniversary

Bands/Grupos