Lightships: Fear & doubt (Ep, 2012)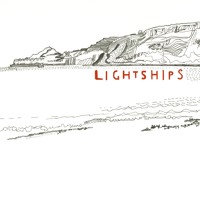 Ensueños
Grabado con el mismo personal y en las mismas sesiones que su debut: Electric cables (2012), Fear and doubt no es más que la lógica continuación, conceptual y musical de aquel debut en solitario de Gerard Love, el 33% de Teenage Fanclub. Sus temas se mueven en la misma nebulosa Pop etérea rayana al Dream-Pop y a sonido más florido. La calma y un cierto estatismo presiden los cuatro cortes de este disco que bien podrían haber sido incluidas en Electric cables, y de hecho Silver and gold era uno de los temas que se encontraban en él.
__________________________
"For those Teenage Fanclub fans who have always held a torch for Gerard Love's songcraft, his Lightships project holds great potential, allowing his gorgeously dreamy melodies to take centre stage. The four tracks on this EP have the same intoxicating quality of his earlier work, but Lightships eschew Teenage Fanclub's guitar-heavy sound, opting for a more washed-out, ethereal approach.The end result can sometimes feel slightly lacking in definition, particularly on the reverb-soaked Cavalcade; Lightships are most effective on Silver and Gold, which juxtaposes verses of wispish fragility with a robust, stomping chorus, laced with fuzzy guitars. Love remains one of the most melodically-gifted songwriters around, and as the highpoints here demonstrate, he's still capable of embellishing his compositions with new ideas" (theskinny.uk.com)
Aún no hay comentarios.
Jangle-Friends

Labels

Mags

Management

The JangleBox Mixtape, LoFi-Dj

Mixtapes

The JangleBox en Facebook

The JangleBox en Twitter

The JangleBox en MySpace

Look for in The JangleBox:

Previously in The JangleBox

Jangle-Comments

Top-Jangle

Jangle-Visits

Feed The Jangle

RSS - Entradas
The JangleBox, 10th. Anniversary

Bands/Grupos