Vacaville – TULLYCRAFT: The Railway Prince Hotel (HHBM Records, 2018)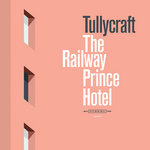 #TheJangleBox #NovedadesTheJangleBox #DescubreTheJangleBox #RememberTheJangleBox
El placer de escuchar un disco tan fresco viniendo de una banda veterana es mayor cuando se disfruta de canciones como We couldn´t dance to Billy Joel, Hearts at the sound, Has your boyfriend lost his flavour on the bedpost overnight? o la que da título a este breve pero más que intenso Lp: The Railway Prince Hotel. Un disco más que celebrado no sólo por su estupendo repertorio de canciones pegadizas, intensas y no exentas de interés a nivel de letras, sino por ser un estupendo bagaje para un grupo que se mantiene más que fresco tras veinte años de carrera.
"On their seventh album, The Railway Prince Hotel, Tullycraft haven't gone disco or heavy metal, and they haven't mellowed; they are still energetic twee poppers through and through. Sean Tollefson still writes hooky, bubblegummy songs that are cute but not fully, he and Jenny Mears still sing like a cardigan-clad Sonny & Cher, guitarists/multi-instrumentalists Chris Munford and Corianton Hale know how to put a song together, and it all sounds instantly familiar to anyone who ever fell in love with aTullycraft song. The band have been making music for almost 20 years and still sound as fresh and inspired as ever. Up-tempo tracks like "We Couldn't Dance to Billy Joel" and "Has Your Boyfriend Lost His Flavor on the Bedpost Overnight?" have all the humor and spunk of their early records; "It's Not Explained It's Delaware" is a sprightly sprint most kids half their age would be hard-pressed to keep up with; and "Midi Midinette" has all the swinging bounce of their best work. Like most of Tullycraft's latter-day albums, Railway Prince Hotel isn't just fun and games; there are tracks that have some depth, too. Maybe a little less this time than on Lost in Light Rotation, but songs like "Passing Observations" and "Hearts at the Sound" have a burnished nostalgic glow brought about by warm hearts and treasured memories. It adds up to another great album in every regard except the sound. Their longtime drummer Jeff Fell is absent, and he's greatly missed. There's a tinny, half-finished feel to many of the songs, and that's because they didn't play as a band, but built the songs piece by piece instead. This drop-off in sonic quality isn't enough to make the album a wreck or render it a miss; however, it does bring it down a notch from some of their recent albums that had great songs and exciting performances, but also a richer, more powerful sound. That said, even a less-than-stellar Tullycraftalbum is worth a spin or three" (All Music)
Aún no hay comentarios.
Jangle-Friends

Labels

Mags

Management

The JangleBox Mixtape, LoFi-Dj

Mixtapes

The JangleBox en Facebook

The JangleBox en Twitter

The JangleBox en MySpace

Look for in The JangleBox:

Previously in The JangleBox

Jangle-Comments

Top-Jangle

Jangle-Visits

Feed The Jangle

RSS - Entradas
The JangleBox, 10th. Anniversary

Bands/Grupos