Poisoned Darts – THEE OH SEES: Smote Reverser (Castle Face Records, 2019)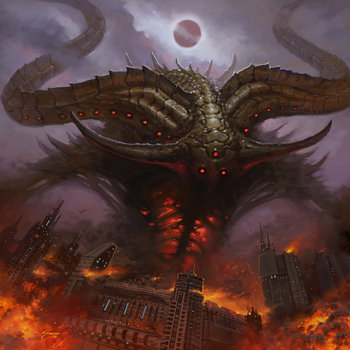 #TheJangleBox #NovedadesTheJangleBox #DescubreTheJangleBox #RememberTheJangleBox
THEE OH SEES han crecido exponencial y musicalmente en todos estos años. Su música ha evolucionado hacia una especie de Pop endurecido, con callo, cercano al Rock más progresivo (su paralelismo más próximo sería un Ty Segall), pero que por momentos pareciera que volase hacia territorios cercanos hasta géneros sesenteros como el Jazz-Soul, cuando en sus inicios eran una banda más cercana al garaje que a otra cosa.
Esa consistencia la han conseguido a base de directos impresionantes, de esas actuaciones adictivas y sudorosas que son imposible de dejar indiferente a nadie. En TJB siempre hemos sido muy de las huestes de John Dwyer, y Smote Reverser (Castle Face, 2018) es otra confirmación más.
"On Smote Reverser's opener "Sentient Oona," he continues to blur the line between singer and narrator, weaving a tale of sleeping spells and all-seeing eyes atop a coolly rumbling drumbeat; you can practically picture him communing with a crystal ball. But even as the song erupts into jolts of organ (courtesy of Memory alum Tom Dolas) and burning arpeggios, the production feels dryer and more chiseled. The heaviness is not in the volume and distortion, but rather in the force with which hands are hitting the instruments.
"Sentient Oona" also finds Oh Sees continuing to develop their double-drummer dynamic in exciting ways, with Rincon and Quattrone laying down interwoven patterns that both propel and disrupt the momentum. For a band once content to lock into a pulsating groove and blaze out for the horizon, Oh Sees have become adept in the art of the curveball; Just as the dreamy Dwyer/Dawson duet "Last Peace" seems like it's going to dissolve into a hookah-bar haze, it blasts off into an exhilarating space-bound jam. And sounding not unlike the wiggy breakdown in Edgar Winter's 1972 prog-funk novelty "Frankenstein" stretched out to 12 minutes, "Anthemic Aggressor" is Oh Sees at their most deliriously unhinged, all solar-flare synths, short-circuiting guitar twitches, and furious jumpy-jazz rhythm.
These epic odysseys are counterbalanced by brief shocks like "Overthrown," where Dwyer's gnashed-teeth growl teeters toward thrash metal. But even as he seems more comfortable bringing hischildhood love of Dungeons & Dragons and latent love of Rush-worthy guitar solos to the fore, Smote Reverser remains unmistakably Oh Sees by virtue of Dwyer's clockwork, chorus-resistant songwriting style—you can always count on each verse to tee up another berserker instrumental break. Like Orc before it,Smote Reverser can't help but lose some of its power as it approaches the hour-long mark—the wandering Floydian instrumental "Flies Bump Against the Glass" and whimsical, Wakeman-esque synthphony "Beat Quest" don't quite deliver the grand finale this castle-storming record deserves. But by that point, Oh Sees have put forth more than enough Progasaurus gusto to rightfully earn their capes" (Pitchfork)
Official Web – Cómpralo-Purchase
Aún no hay comentarios.
Jangle-Friends

Labels

Mags

Management

The JangleBox Mixtape, LoFi-Dj

Mixtapes

The JangleBox en Facebook

The JangleBox en Twitter

The JangleBox en MySpace

Look for in The JangleBox:

Previously in The JangleBox

Jangle-Comments

Top-Jangle

Jangle-Visits

Feed The Jangle

RSS - Entradas
The JangleBox, 10th. Anniversary

Bands/Grupos