Doing my way – CRYSTAL EYES: The female imagination (Shake! Records, 2017)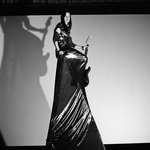 #TheJangleBox #DescubreTheJangleBox #NovedadesTheJangleBox
Surgida como el proyecto de Erin Jenkins, Crystal Eyes es una banda canadiense que cabalga a lomos del Indie-Pop con solista femenina y decierta producción de Pop-Psicodélico que en los noventa y dos mil contó con numerosas aportaciones brillantes. Su primer disco es un buen trabajo jalonado de cortes más que interesantes como My Way.
"Her forte is dreampop, and we get generous helpings of it, including the beautiful "From Me to You/From You to Me" with its somewhat odd '90s shoegaze backing. But the mix is entertaining, as you get a country twang with the psych pop of "High Moon" and self-harmonized vocals on the bouncy beach garage number "Already Gone". The reverb-induced '50s nostalgia is so weirdly intense on "Say Something" that it gets David Lynchian, in a really great way.
If you weren't convinced that this is Jenkins' personal project then the closing track will close the deal. "The Female Imagination" finds her accompanied only by clean guitar strumming and swelling strings, highlighting the intimacy of her voice, which is a particularly engaging combination of her whisper and her stronger singing voice. Unfortunately, it all ends on a rather sad note as Jenkins softly states: "I don't worry about the future/Because I can't remember the past/All I know is that you left me then/And I know love don't last" (Ride the Tempo)
Aún no hay comentarios.
Jangle-Friends

Labels

Mags

Management

The JangleBox Mixtape, LoFi-Dj

Mixtapes

The JangleBox en Facebook

The JangleBox en Twitter

The JangleBox en MySpace

Look for in The JangleBox:

Previously in The JangleBox

Jangle-Comments

Top-Jangle

Jangle-Visits

Feed The Jangle

RSS - Entradas
The JangleBox, 10th. Anniversary

Bands/Grupos