Yo salía con una adolescente – DADDY ISSUES: Deep Dream (Infinity Cat Recordings, 2017)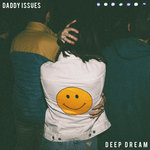 #TheJangleBox #DescubreTheJangleBox #NovedadesTheJangleBox
DADDY ISSUES es una de esas bandas que cada cierto tiempo refrescan el panorama musical con un puñado de temas frescos, impactantes y que de alguna manera remueven nuestro espíritu post-adolescente con esa forma de tocar juvenil, atropellada y cargada de buenas intenciones.
Sus influencias son bien claras: el riot girrrl, el grunge y el fuzz-pop de comienzos de los noventa. El resultado: este Deep Dream, un disco corto, directo y que te puede hacer echar un buen rato de revival de ese Pop de guitarras que a todos nos encanta redescubrir cada cierto tiempo.
"One could reasonably argue that Jenna Moynihan is a musician who lives in the wrong place and time. Judging from Deep Dream, the first full-length album from Moynihan's group Daddy Issues, if she'd made this record in, say, 1993, she'd be fielding lucrative offers from major-label A&R people looking for the next Belly, Veruca Salt, or Breeders. With its catchy but minimalist tunes, grungy guitar figures, and simple but muscular backbeat, Deep Dream sounds like it could easily have been a product of the era when grunge put alternative rock on the charts and hooky tunes with noisy guitars were suddenly the coin of the realm. But Moynihan and her bandmates (Jenna Mitchell on bass andEmily Maxwell on drums) hardly seem motivated by '90s nostalgia. As a lyricist, Moynihan has a real knack for personal material that focuses on the spaces where relationships go south (and if she isn't as bold as Liz Phair was in her heyday, she had no qualms about calling things what they are). Though her guitar work sometimes betrays the fact she only started playing seriously in 2014, her tough, grainy tone gives the tunes a physicality that serves them well. Mitchell and Maxwell hadn't been playing much longer than Moynihan when the band started, which may explain why their approach is so straightforward on Deep Dream, but they know how to harmonize and they push the songs forward without a lot of fuss, balancing their grungy side with a punky clarity. And come to think of it, in 1993 some A&R guy would probably have tried to impose a more flashy second guitarist on this trio, which would have robbed them of a great deal of their lean but crunchy force, so perhaps it's just as well Daddy Issues exist in the 21st century. Deep Dream shows they're maturing nicely at their own pace, and their creative instincts are serving them well for such a young band" (All Music)
Aún no hay comentarios.
Jangle-Friends

Labels

Mags

Management

The JangleBox Mixtape, LoFi-Dj

Mixtapes

The JangleBox en Facebook

The JangleBox en Twitter

The JangleBox en MySpace

Look for in The JangleBox:

Previously in The JangleBox

Jangle-Comments

Top-Jangle

Jangle-Visits

Feed The Jangle

RSS - Entradas
The JangleBox, 10th. Anniversary

Bands/Grupos