On a Window – REC CENTRE: Dealer to the stars (2017)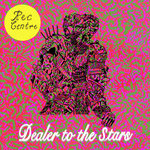 Como gotitas de agua sobre un cristal. Así de transparente y de cristalina es la música de REC CENTRE: Puro Jangle-Pop a base de pequeñas dosis de concentrado de guitarras y buenas y compactas composiciones que lo mismo nos acercan al mejor C86 que a los sonidos Pop de las antípodas, si bien se ha ido dejando un poco atrás el impulso Powerpopero. Buen proyecto el de Alex Hudson que mantiene aún viva la llama del Bedroom-Pop, aunque para conciertos se hace acompañar de banda. 
"Turning 30, in the midst of a breakup, battling insomnia and spending sleepless nights on a SOLSTA sofa-bed from IKEA: these are the raw materials of an existential crisis.
That's the situation that Vancouver-born/Toronto-based songwriter Alex Hudson found himself in when making his third full-length as Rec Centre, Dealer to the Stars. All of the songs were originally written on acoustic guitar—a big change from past work, which was led by synths and bass—and the original demos were frequently recorded at a whisper at 3 AM. 
The end result combines singer-songwriter intimacy with power-pop urgency: "Actual Life" is a nihilistic mission statement wrapped up in breezily jangling guitars, "King of the Weekend" is a synth-hazed nü-wop ballad, and "Friends with Vices" explodes with in-the-red fuzz riffs. All the while, death lurks around every corner: "Blood Moon" is an oddball funk jam about a gangland murder that took place a block from Alex's house, and "New York Botanical Garden" was written after a man had a heart attack at a friend's workplace" (Press Note)
Aún no hay comentarios.
Jangle-Friends

Labels

Mags

Management

The JangleBox Mixtape, LoFi-Dj

Mixtapes

The JangleBox en Facebook

The JangleBox en Twitter

The JangleBox en MySpace

Look for in The JangleBox:

Previously in The JangleBox

Jangle-Comments

Top-Jangle

Jangle-Visits

Feed The Jangle

RSS - Entradas
The JangleBox, 10th. Anniversary

Bands/Grupos