Night Animation – PANDA RIOT: Infinity Maps (Vinyl Junkie, 2017)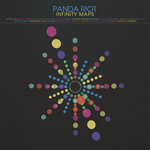 #TheJangleBox #NovedadesTheJangleBox #DescubreTheJangleBox
Más allá de lo extraño de encontrarse con una propuesta tan arriesgada de dieciocho temas (los que conforman este Infinity Maps), la música de PANDA RIOT ha crecido en madurez y en calidad. Lo que comenzó como un proyecto cinemático se ha convertido en toda una banda consolidada, con raíces evidentes en el panorama Shoegazer noventero pero que los de Illionois han sabido llevar a su terreno y convertirlo en un sonido arrebatadoramente Dream pero con las dosis adecuadas del Fuzz-Pop de unos Ride de sus tiempos de Leave all them behind, y de los ritmos programados a los que tanto nos aficionamos en la segunda década prodigiosa del Pop. Todo un descubrimiento para quienes aún no les conozcáis.
"Waves of raging melodious turbulence swirl into earshot as droning guitar squall gives way to shimmering vocalisations and squealing feedback. 'Aphelion' bubbles precariously on a bedrock of impressive percussion, noisy guitars and humming bass frequencies peppered at times by subtle swells of synth, wavy reverberations and broken up by magnificent breaks filled with soaring vocal lines. Up next, 'Helios (June 20th)' swirls into audible range trapped in cloud of shoegaze infused dream pop as it's beautifully serine vocal lines bounce and whirr on layers of tremulous reverb drenched guitar progressions whilst 'Latitudes' pulses on sequenced electronics and churning instrumental drones before fading out through wavy vocal samples and impressive production theatrics. 'Ghosting' unfurls its sonic tendrils stuck fast to a plinking synth progression before careering headlong into a brutish wall of hazy guitars & plodding bass, sweeping synth swells and metronomic percussion all collectively enveloping that soaring vocal track before 'Chimera' explodes into a haze of atmospherics as it's cinematic leanings are brought to bare tumbling effortlessly in a cyclonic ball filled with fizzing synths, lazy percussion, fuzzy guitars and its addictive backwards vocal lines.
Pounding drum patterns and soaring melodious guitars ride throbbing bass frequencies and sequenced bleeps as they circumnavigate beautifully serine vocalisations before 'Double Dream' explodes into a mesmerising finale swiftly followed by the tremulous opening guitar tones of 'Arrows' and it's cascading bass lines, hypnotic drum patterns and those shimmering reverberations. Wavy instrumentation coupled with a serine piano progression and instantly refreshing vocal samples herald the arrival of the deliciously dreamy 'Parachutes' whilst the driving percussion of 'Night Animation' swirls delicately in a hazy modern dream pop vibe underscored at times with acres of reverberation, soaring layered guitars and shimmering vocalisations. The experimental leanings of'Parallels' wash over this listener as sparse drum patterns, humming bass frequencies and swooshing guitar drones circumnavigate that laid back vocal performance allowing moments of sonic abandonment to pierce the normally rigid song structures created by the band. The album swoons as 'Infinity Maps' undulates into audible range tumbling effortlessly in a whirlwind of beautifully intense frequencies permeated by the hypnotic swing of the drums before the instrumental pause that is 'Niagara' pulses on swathes of comforting atmospheric synth and sequenced bleeps & whirrs.
'New Colours' oozes sonic brilliance as its captivating dream pop leanings bob and weave on layers of hazy guitar, steadying percussion, throbbing melodious bass lines and entrancing vocal lines. There are subtle moments of woozy shoegaze bubbling up at times throughout this track as lead guitar lines whip and cajole resonating frequencies, pushing them through layers of reverb and whammy bar theatrics. 'Aurora Shift' moves back into a more experimental patch as a bouncing bass line rides giddying sequenced percussion and swirling synth swells before the instrumental 'Glass Cathedrals' surges through layers of sticky delay, hazy reverb and turbulent drones. Up next, the brilliant 'Gold Lines' doffs it's well worn cap to those early 90's shoegaze stalwarts as it undulates into the ether on a tremulous wall of reverb hued guitars and steadying percussion. Addictive lead progressions pull another intense vocal performance out into the light accompanied by growling passages of soaring shoegaze and cascading bass frequencies. Possibly my favourite track on the entire release, 'Gold Lines'doesn't disappoint. The albums penultimate piece entitled 'Otherside' swoons into earshot on a beautifully intense wave of synth and droning guitar as metronomic percussion and a throbbing bass line announces a beautifully effervescent vocal take. The albums closes out on an infectious footing as tumbling vocals intertwine with backwards guitars and addictive production as 'Magic Numbers' bookends a fascinating collection of tracks. 
Panda Riot never fail to impress me. Their grasp on what is relevant in this modern underground shoegaze & dream pop scene is as evident as ever on this new album. Collectively the quartet move effortlessly through passages of experimentation and ambient exploration whilst keeping a firm grip on their core D.I.Y values, drawing on slivers of wide ranging influence to create magnificent modern sounding standalone pieces alongside their well crafted early 90's inspired soundtracks that keeps them consistently relevant in todays ever evolving scene. Some folks might find that eighteen tracks is a chore to get through in one sitting but I can guarantee that each one will captivate and hypnotise both old and new fans alike" (Primal Music Blog)
Aún no hay comentarios.
Jangle-Friends

Labels

Mags

Management

The JangleBox Mixtape, LoFi-Dj

Mixtapes

The JangleBox en Facebook

The JangleBox en Twitter

The JangleBox en MySpace

Look for in The JangleBox:

Previously in The JangleBox

Jangle-Comments

Top-Jangle

Jangle-Visits

Feed The Jangle

RSS - Entradas
The JangleBox, 10th. Anniversary

Bands/Grupos