Sugar – BEACH FOSSILS: Somersault (Bayonet Records, 2017)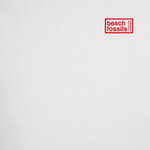 Con el título de uno de los cortes de Somersault titulamos el post sobre este último trabajo de BEACH FOSSILS: Somersault (Bayonet, 2017). Un título (salto mortal, voltereta), que no tiene mucho de cierto, pues la propuesta musical de los neoyorquinos no ha variado sustancialmente desde sus comienzos. Y ello nos congratula, pues su sonido continúa tan fresco como en sus inicios, añadiéndole, eso sí, ligeros toques de producción, arreglos de cuerdas, algunos metales que le dan al conjunto una coherencia mayor a la par que un más que interesante visión.
Somersault es una estupenda continuación a la ya interesante trayectoria del trío, que continúa, básicamente, en la estela del Jangle / Surf iniciada en 2010 con el glorioso álbum homónimo de preciosa portada de madera.
"The sleepy-eyed longing of the band's breakthrough self-titled debut are a distant memory. In its stead are frequent surprises. The confident lead track and first single "This Year" recalls Real Estate's jangle and infuses it with a driving rhythm section, and when the strings cue to punctuate its outro, Payseur's vision sounds more ambitious than ever. The orchestration is a recurring feature on the record, accentuating the backing vocals of Slowdive's Rachel Goswell on "Tangerine" and turning the mid-tempo "Saint Ivy" into the most nuanced composition that Payseur has ever recorded. Its coda marries a weepy George Harrison-like guitar solo with string swells, as Beach Fossils traverse the chasm between its previous brand of dream pop and the retro AM radio vibes that Jonathan Rado, one of the record's engineers, is known for producing.
"Wanna believe in America, but it's somewhere I can't find," Payseur sings on "Saint Ivy," which is as directly political as the record gets. But reality bubbles up subtly as Payseur casually mines his personal life and relationships for stories. There's something real in how the country's hardships are inescapable in 2017: Even when Payseur wants to focus on friendships or temporary escapism, he looks down at the concrete to see "A.C.A.B" (All Cops Are Bastards) in the song "Down the Line." The encroaching claustrophobia of the world is reflected in the record's more unusual moments, like a Cities Aviv-led spoken-word diversion on the introspective "Rise" or the rudderless harpsichord of "Closer Everywhere."
Still, Payseur has written some of his best songs to date here. WhenSomersault reaches its unfettered climax, the five-minute-plus tension-releasing eruption of "Be Nothing," it's clear that the project has overcome its greatest burden" (Pitchfork)
Aún no hay comentarios.
Jangle-Friends

Labels

Mags

Management

The JangleBox Mixtape, LoFi-Dj

Mixtapes

The JangleBox en Facebook

The JangleBox en Twitter

The JangleBox en MySpace

Look for in The JangleBox:

Previously in The JangleBox

Jangle-Comments

Top-Jangle

Jangle-Visits

Feed The Jangle

RSS - Entradas
The JangleBox, 10th. Anniversary

Bands/Grupos