Fuzzy Pastiche – THE BLACK UNDERGROUND: I am the noise (2017)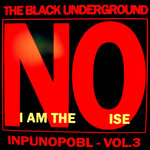 La fórmula de Biba Ost continúa siendo la misma: una cierta reiteración de patrones de sobras conocidos como el Noise mezclado con la pesadez de ciertas facetas de TJMC y una pose un tanto oscura. Vamos: lo que muchos conocen como Pastiche. No obstante, resulta bastante entretenido de escuchar.
Aún no hay comentarios.
Jangle-Friends

Labels

Mags

Management

The JangleBox Mixtape, LoFi-Dj

Mixtapes

The JangleBox en Facebook

The JangleBox en Twitter

The JangleBox en MySpace

Look for in The JangleBox:

Previously in The JangleBox

Jangle-Comments

Top-Jangle

Jangle-Visits

Feed The Jangle

RSS - Entradas
The JangleBox, 10th. Anniversary

Bands/Grupos