Always Shine – TAPE WAVES: Here to fade (Bleeding Gold, 2016)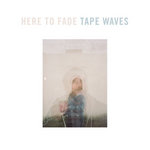 Hablar de TAPE WAVES es continuar hablando de playas, de Dream-Pop, de ensoñaciones y de arrebatos Pop. Sus canciones continúan teniendo la calidez que descubrimos hace ya cuatro años en estas mismas páginas.
Here to Fade es su última referencia, aparecida en un sello amigo de TJB: Bleeding Gold, especialista en variedad sonora y en descubrimientos epatantes como el que nos ocupa.
"With shimmery guitars and hushed vocals, their songs evoke images of hazy summer days and young love. Their sun-drenched pop songs have garnered attention from numerous media outlets including NYLON, BlackBook and Impose" (Press)
Aún no hay comentarios.
Jangle-Friends

Labels

Mags

Management

The JangleBox Mixtape, LoFi-Dj

Mixtapes

The JangleBox en Facebook

The JangleBox en Twitter

The JangleBox en MySpace

Look for in The JangleBox:

Previously in The JangleBox

Jangle-Comments

Top-Jangle

Jangle-Visits

Feed The Jangle

RSS - Entradas
The JangleBox, 10th. Anniversary

Bands/Grupos