Flores de Ultratumba – SODA LILIES: Love Cemetery (Rok Lok Records, 2016)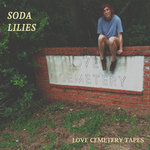 La definición perfecta del LoFi/Diy es esta cassette de debut de los Shoegazers SODA LILIES. Una banda de Texas (nicho perfecto para estas sonoridades en los últimos tiempos) que apuesta por las disonancias, los efectos y las distorsiones arriesgadas. Todo un pedazo de debut.
"In recent years the shoegaze label has been adorned by many bands and while appropriately falling under that umbrella whether it is modern recording techniques, cross pollination of other music styles, different types of effects pedals employed I have found that very few of these bands really capture the sonic aesthetic of the bands that made me fall in love with the genre in the first place. That is where Austin, TX based Soda Lilies succeed is that the sounds captured on their cassette "Love Cemetery Tapes" hearkens to a time when the sounds of My Bloody Valentine and Swirlies were defining a genre. "Love Cemetery Tapes" is eight tracks of hazy, tremolo bar bending waves of distorted guitar sounds mixed through awash of driving drums and layered, hushed vocal breezes. The sounds that Soda Lilies make evoke a warm feeling not only in the nostalgia of bringing the listener closer to a shoegaze-y experience of yore but because the sounds ebb and flow in such a manner" (Press Note)
Aún no hay comentarios.
Jangle-Friends

Labels

Mags

Management

The JangleBox Mixtape, LoFi-Dj

Mixtapes

The JangleBox en Facebook

The JangleBox en Twitter

The JangleBox en MySpace

Look for in The JangleBox:

Previously in The JangleBox

Jangle-Comments

Top-Jangle

Jangle-Visits

Feed The Jangle

RSS - Entradas
The JangleBox, 10th. Anniversary

Bands/Grupos