Expectations – ST. DELUXE: On Your Own​/​Wisdom of the Ages (Single, 2017) – Expectations/Julia (Single, 2016)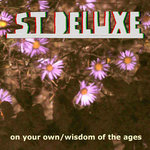 Fuzzy-Pop de la mejor escuela escocesa (y no voy a ser prolijo nombrando grupos). Sonidos emocionantes que nos evocan a lo mejor de los maravillosos noventa. El único pero: que no han editado aún álbum desde su debut de 2012. 
"St Deluxe strike back with a killer double A cassette and download release, Expectations/Julia. Following the recent psych/shoegaze-tinged Draw a Line EP, the single sees the 3 piece showcase the pop side to their fuzz drenched slacker vibe.
Pop Monster A: Expectations – an excited, careering, melodious pop joyride through Fender and Fuzz indie rock wastelands, exuberant and bored and wasted all at the same time. Early Teenage Fanclub/Dinosaur Jr listening to Rubber Soul on codeine.
Pop Monster AA: Julia – a 2 minute driving bubblegum rock banger, relentlessly charging towards a rock breakdown before being submerged in wailing noise. Like Psychocandy era JAMC being shouted at by Johnny Ramone while Thurston Moore cries tears of reverberated feedback" (Press)
Aún no hay comentarios.
Jangle-Friends

Labels

Mags

Management

The JangleBox Mixtape, LoFi-Dj

Mixtapes

The JangleBox en Facebook

The JangleBox en Twitter

The JangleBox en MySpace

Look for in The JangleBox:

Previously in The JangleBox

Jangle-Comments

Top-Jangle

Jangle-Visits

Feed The Jangle

RSS - Entradas
The JangleBox, 10th. Anniversary

Bands/Grupos