Evergreen Terrace – THE DARLING BUDS: Evergreen (Ep, Odd Box, 2017)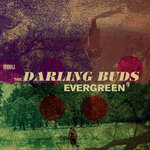 Después de la gran cantidad de bandas y solistas que han reaparecido en estos últimos tiempos, THE DARLING BUDS se cuelan, casi sin avisar, por la puerta de Odd Box Records publicando un nuevo Ep, nada menos que veinticinco años después.
Y lo mejor de todo es que sónicamente parece que lo retoman justo donde lo dejaron, con la misma brillantez y luminosidad Pop que les caracterizó allá por finales de los ochenta.
"After a few years of occasional gigging just for fun, The Darling Buds are delighted to be releasing a new 4 track ep 'Evergreen' on Odd Box Records. This will be the first new material released by the Buds for over 25 years (back in the day they did 3 session for the much missed DJ John Peel) and these new recordings continue the musical evolution seen by the band from their indie pop debut Pop Said to their last release Erotica"
Aún no hay comentarios.
Jangle-Friends

Labels

Mags

Management

The JangleBox Mixtape, LoFi-Dj

Mixtapes

The JangleBox en Facebook

The JangleBox en Twitter

The JangleBox en MySpace

Look for in The JangleBox:

Previously in The JangleBox

Jangle-Comments

Top-Jangle

Jangle-Visits

Feed The Jangle

RSS - Entradas
The JangleBox, 10th. Anniversary

Bands/Grupos