Retro-Techno – FRAGILE TOM: The particular go (Discos de Kirlian, Reissue, 2017)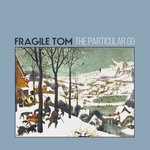 La disquera barcelonesa Discos de Kirlian, acaba de reeditar el disco de Fragile Tom que apareció hace algún tiempo. Todo un bonito y crepuscular paseo por el Synth-Pop de raigambre más ochentera.
"80's flavored synthpop between cheerfulness & introspection. German duo Fragile Tom creates synthpop between cheerfulness and introspection, building upon the legacy of late 70s & early 80s electronica, and drawing from influences such as Yazoo, Tears For Fears and OMD. Ensuing from a fundamental doubt in the powers of human perception, their output thematically revolves around the countless mysteries that are bred by the ubiquity of interpersonal distance and alienation in relationships" (Press, Discos de Kirlian)
Aún no hay comentarios.
Jangle-Friends

Labels

Mags

Management

The JangleBox Mixtape, LoFi-Dj

Mixtapes

The JangleBox en Facebook

The JangleBox en Twitter

The JangleBox en MySpace

Look for in The JangleBox:

Previously in The JangleBox

Jangle-Comments

Top-Jangle

Jangle-Visits

Feed The Jangle

RSS - Entradas
The JangleBox, 10th. Anniversary

Bands/Grupos