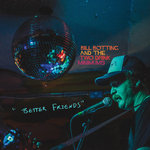 "First there was Paul McCartney, Phil Lynott and Lemmy, and now in 2017 Bill Botting swells the esteemed ranks of bass-players-with-moustaches-come-charismatic-frontmen.
Following Allo Darlin's triumphant farewell back in December 2016, their ever-buoyant bass player Bill Botting is releasing his debut solo album in March on Fika Recordings and WIAIWYA.
He gathered a supergroup of siblings and indie legends including Allo Darlin' bandmate Paul Rains, Jonny Helm from The Wave Pictures, Tom Wade from Owl & Mouse, Laura K from Tigercats, Darren Hayman from Darren Hayman and Hannah Botting from home, christened them the Two Drink Minimums, took them to Ramsgate, and recorded Better Friends.
Better Friends is simply described as indie mixed with country, or country mixed with indie. Or like if Lou Reed went to a Linda Ronstadt Concert in 1988 and decided to have a change of direction.
Imagine the soundtrack to a 1970's road movie directed by John Hughes, with a little power pop, some cosmic American music and some post-punk, pre-indiepop jangle, all played through an Australian indie filter, with a Paul Simon cover thrown in for good measure. You can hear the Go-Between's in there, some solo McCartney, perhaps an Antipodean Kinks and even some classic Huey Lewis, Hall and Oates or Billy Joel.
Better Friends was predominantly written on the move: on 3 hour night buses, tour vans and cross country trains. There are tales of hotel rooms without spare keys [Paulie's Girl], absurd 'sexy' Halloween costumes (Sexy Mental Patient, Sexy Zombie etc) [Feeling Sad Again] and the difficulty of explaining depression to your eldest child [Difficult Stuff].
The cover of Graceland came from hearing Willie Nelson's version while waiting for the rest of the band to arrive for the first rehearsal. Having thought it was uncoverable, Bill proceeded to cover it with the gang. And he still modestly maintains that The Two Drink Minimums' version is the second best of the three.
It's honest and personal, melancholy and joyous… like a warm hug from a new friend at the end of a boozy night" (Press-Wiaiwya)