Misty Journey – SHADOW BAND: Wilderness of Love (Mexican Summer, 2017)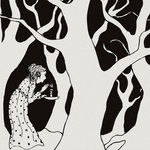 Una especie de salto atrás en el tiempo. Algo así como un viaje neblinoso a través del Pop Barroco, de los sonidos más hippiosos de finales de los sesenta, musicado a la manera más cercana al Folk-Rock. En realidad podrían ser la evolución perfecta de los sonidos iniciados en los dos mil con bandas como Fleet Foxes o Grizzly Bear.
"It comes from dimensions unknown. Wilderness of Love, the smoke-colored debut album by mystical prophets Shadow Band, sounds more conjured than recorded. When the sprawling collective decided it was time to document their dark craft, rather than choosing to work in a traditional recording studio, they dove headlong into their time honored method of capturing late night jams on mouldering home-recording devices. Oblivious to life outside, the band laid down sounds that could only happen in these contained moments of silent enlightenment.
The album that resulted is indeed a product of the wild. The eleven songs here travel on a misty journey through both lantern-lit psyche-folk dirges and depraved deathknell blues, wobbling in the balance of paranoia and universal understanding. The homespun production mirrors the low-lit environment in which the album was made, with strange stringed instruments, theremin vibrations and buried percussion all washing by as a singular, alien texture. Songs melt with the sound of distant birds and pagan pan flutes only to rise up in swells of unholy synth. Mellow but godless, the Shadow Band creates their own reality, reflecting on the dying embers of haunted dreams but moving ever forward through the dusk" (Press)
Aún no hay comentarios.
Jangle-Friends

Labels

Mags

Management

The JangleBox Mixtape, LoFi-Dj

Mixtapes

The JangleBox en Facebook

The JangleBox en Twitter

The JangleBox en MySpace

Look for in The JangleBox:

Previously in The JangleBox

Jangle-Comments

Top-Jangle

Jangle-Visits

Feed The Jangle

RSS - Entradas
The JangleBox, 10th. Anniversary

Bands/Grupos