Estrabismo – COSMONAUTS: A-Ok ! (Burger Records, 2017)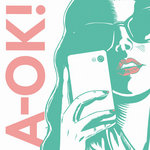 Una cierta confusión, un cierto estrabismo sonoro me asalta al oír el cuarto álbum de los californianos Cosmonauts. Un álbum en el que encontramos un amplio abanico y espectro de sonidos e influencias que, quizás lejos de causar extrañeza, puede ser un cierto rasgo identitario de su sonido. En A-Ok! paseamos tanto por el Madchester como por el Brit-Pop. Tanto por el Fuzz como por el Space-Rock de rasgos psicodélicos. Desde luego, un trabajo con el que te puedes identificar con cualquiera de sus múltiples facetas.
"Spacy Los Angeles quartet Cosmonauts return with their fourth long-player, 2016's A-OK! An outlier on the Burger Records roster, Cosmonauts eschew the lackadaisical "good enough for a cassette" aesthetic of most of their lo-fi labelmates in favor of slinky, British-inspired space rock with heavy new wave tendencies. They can turn up their amps and make as much noise as their garage contemporaries, but the 12-string jangle of tuneful standouts like "Good Lucky Blessing" and "Cruisin'" have their roots in the earnest rock paeans of Simple Minds or even early Brit-pop. Similarly, the fine riffing of the title track channels the Bunnymen, while "Doom Generation" further reveals Cosmonauts' affinity for coolly droning Jesus and Mary Chain-style mood rock. The slow-drip "Party at Sunday" is somewhat of a dull misstep revealing half-baked lyrics that probably should have remained in singerDerek Cowart's notebook, and there's an overall feeling of leaning a bit too hard on their influences. Still, in a Californian landscape where slouchy underachieving four-track rock is the norm, it's nice to hear a band with a sense of craft" (All Music)
Aún no hay comentarios.
Jangle-Friends

Labels

Mags

Management

The JangleBox Mixtape, LoFi-Dj

Mixtapes

The JangleBox en Facebook

The JangleBox en Twitter

The JangleBox en MySpace

Look for in The JangleBox:

Previously in The JangleBox

Jangle-Comments

Top-Jangle

Jangle-Visits

Feed The Jangle

RSS - Entradas
The JangleBox, 10th. Anniversary

Bands/Grupos