Acné – Wolf Girl: Moody (Single – Odd Box Records, 2017)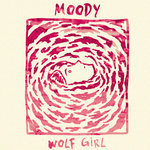 Fuzzy-Pop con acné.
'Moody' is another slice of buzz-tastic garage pop – which is sure to be hit on the pop underground. While the flip side 'Get You' is a pop punk fizzer that rockets by. The single will come on Pink Cadillac vinyl in an edition of 250″ (Prensa)
Aún no hay comentarios.
Jangle-Friends

Labels

Mags

Management

The JangleBox Mixtape, LoFi-Dj

Mixtapes

The JangleBox en Facebook

The JangleBox en Twitter

The JangleBox en MySpace

Look for in The JangleBox:

Previously in The JangleBox

Jangle-Comments

Top-Jangle

Jangle-Visits

Feed The Jangle

RSS - Entradas
The JangleBox, 10th. Anniversary

Bands/Grupos