Evolución POP – THE MINDERS: Into the river (Space Cassette, 2016)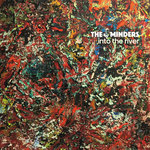 Mucho tiempo ha pasado ya desde los primeros sencillos de The Minders con Robert Schneider y Hillary Sidney en la formación. Bastante desde que publicaron su maravillosa obra maestra de debut: Hooray for Tuesday. Time has gone… y The Minders han evolucionado hasta un Pop más barroco que antaño, donde se acercaban más al Power-Pop. Algunos arreglos de cuerda sublimes adornan los momentos álgidos de este Into the river. Desgraciadamente, será un disco que no tendrá ningún tipo de transcendencia mediática y ni siquiera estará entre lo mejor de su discografía, pero aún así, su sexto trabajo (y el primero en diez años) tiene elementos de sobra para que le prestemos atención.
"Into the River is the Minder's fourth full length studio album, and the band's first release in ten years. The eleven tracks featured here were engineered and produced by Larry Crane (Tape Op/ Jackpot studio fame) the production incorporates a varied array of songs some accompanied with string arrangements. At first listen, Into the River plays like a concept record. Two versions of the title track appear on the record -strategically placed as bookends on both sides of the album; however, each version is uniquely different, so much so that at first listen they appear to be two different songs.
Into the River picks up where the band left off from its last release (Bright Guilty World, Future Farmer 2006). Crane's expert engineering and producing hands are in evidence with lush string arrangements that help paint a deep emotional back drop to the song craft that has become The Minder's trade mark. Into the River is the most ambitious studio effort by The Minders, and it is on this record that the band has arrived with their best album to date. Please sit back and enjoy!" (Press)
Aún no hay comentarios.
Jangle-Friends

Labels

Mags

Management

The JangleBox Mixtape, LoFi-Dj

Mixtapes

The JangleBox en Facebook

The JangleBox en Twitter

The JangleBox en MySpace

Look for in The JangleBox:

Previously in The JangleBox

Jangle-Comments

Top-Jangle

Jangle-Visits

Feed The Jangle

RSS - Entradas
The JangleBox, 10th. Anniversary

Bands/Grupos