Pop Kitsch de dormitorio: Frankie Cosmos – Next thing (Double Double Whammy, 2016)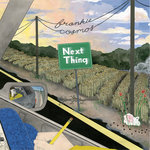 Presupuestos sencillos y canciones de esas que te acercan a la intimidad del músico. Ya aparecieron en TJB con motivo de su álbum de debut. Con Next thing, la banda de Greta Kline (sí, la hija de Kevin Kline), le da continuidad a esa idea del Twee de dormitorio que tan buen resultado les da.
AUG 26-27 STOCKHOLM SE POPAGANDA FESTIVAL
AUG 28 OSLO NO CAFE MONO
AUG 29 COPENHAGEN DK IDEAL BAR
AUG 30 HAMBURG DE AALHAUS
AUG 31 BERLIN DE POP KULTUR FESTIVAL
SEP 01 UTRECHT NL EKKO
SEP 03 LARMER TREE GARDENS UK END OF THE ROAD FESTIVAL
SEP 02-04 STRADBALLY IE ELECTRIC PICNIC
SEP 05 GLASGOW UK STEREO
SEP 06 LEEDS UK HEADROW HOUSE
SEP 08 LONDON UK THE DOME
SEP 09 PARIS FR POINT EPHEMERE
SEP 10 SAINT-AMANS-DES-COTS FR HOG HOG FESTIVAL
SEP 11 DIJON FR HOUSE SHOW
SEP 12 LAUSANNE CH LE ROMANDIE
SEP 13 ZURICH CH BOGEN F
SEP 14 DUDINGEN CH BAD BONN
SEP 15 ST GALLEN CH PALACE ST GALLEN
SEP 17 ZAGREB HR MOCVARA
SEP 18 BUDAPEST HU A38
SEP 19 VIENNA AT B72
SEP 29 SAN DIEGO CA IRENIC
OCT 01 LOS ANGELES CA THE ECHO
OCT 02 SAN FRANCISCO CA SWEDISH AMERICAN HALL
OCT 03 OAKLAND CA STARLINE SOCIAL CLUB
OCT 05 PORTLAND OR BOSSANOVA
OCT 06 OLYMPIA WA OBSIDIAN
OCT 07 SEATTLE WA THE VERA PROJECT
OCT 08 VANCOUVER BC RICKSHAW THEATRE
NOV 2-6 REYKJAVIK IS ICELAND AIRWAVES
Aún no hay comentarios.
Jangle-Friends

Labels

Mags

Management

The JangleBox Mixtape, LoFi-Dj

Mixtapes

The JangleBox en Facebook

The JangleBox en Twitter

The JangleBox en MySpace

Look for in The JangleBox:

Previously in The JangleBox

Jangle-Comments

Top-Jangle

Jangle-Visits

Feed The Jangle

RSS - Entradas
The JangleBox, 10th. Anniversary

Bands/Grupos