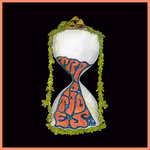 Los reyes del Reverb, o unos de los mejores artífices del Surf-Psicodélico retomaron la actividad esta primavera para presentarnos Hourglass, una recopilación de material (convenientemente remezclado) editado y esparcido anteriormente en recopilaciones o maquetas entre los años 2011 y 2014.
"Triptides is a sunshine warped psychedelic group from Los Angeles, California. Their music can be visual; A fuzz warped haze suddenly gives way to a dream sequence soundtrack. Listeners may experience a melting sensation, positive vibrations" (Press)
Y si Triptides son los reyes del Reverb, Glenn Brigman es su líder espiritual y cabeza visible. Cosmic Drifter es su carta de presentación: un sencillo en el que sin desviarse demasiado de su banda mater, Brigman nos deja algunas actitudes y pinceladas más cercanas a krooners eléctricos del tipo Neil Young. 
Este disco lo produjo Mark Knopfler, suena a ochentas que echa a veces para atrás, pero tiene su encanto, y dentro había joyitas como ésta: Rotunda.
Jangle-Friends

Labels

Mags

Management

The JangleBox Mixtape, LoFi-Dj

Mixtapes

The JangleBox en Facebook

The JangleBox en Twitter

The JangleBox en MySpace

Look for in The JangleBox:

Previously in The JangleBox

Jangle-Comments

Top-Jangle

Jangle-Visits

Feed The Jangle

RSS - Entradas
The JangleBox, 10th. Anniversary

Bands/Grupos