Air Waves: Parting glances (Western Vynil, 2015)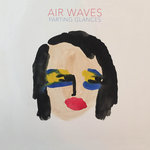 Cinco años han tenido que pasar para que Nicole Schneit publique su segundo trabajo, también bajo el alias de Air Waves. Probablemente la chica no viva de ésto (como me duele tener que decir ésto…), aunque los planteamientos no son muy distintos: intimismo LoFi, instrumentación parca, letras que exploran el interior de las cosas y los sentimientos y cercanía a presupuestos semejantes como los de su predecesor, el igualmente interesante Dungeon Dots (2010).
"More than just identifying with the story, she's interested in the in the lasting effect of the parting glances we share with strangers in our everyday encounters. She explains "You see all sorts of physical and emotional traits on the train. From people puking, making out, screaming, crying, laughing, dancing, grooming, etc. We encounter each other in the thick of our complex lives by simply looking at each other all the time. These glances are mundane and fleeting but also powerfully intimate." The lingering impact of those brief moments seeps into the details and imagery she delivers through her lyrics on Parting Glances. With energizing hooks and a disarming lack of pretense, the songs on Parting Glances burn with ebullient energy and an emotionally engaging core from beginning to end" (Press)
Aún no hay comentarios.
Jangle-Friends

Labels

Mags

Management

The JangleBox Mixtape, LoFi-Dj

Mixtapes

The JangleBox en Facebook

The JangleBox en Twitter

The JangleBox en MySpace

Look for in The JangleBox:

Previously in The JangleBox

Jangle-Comments

Top-Jangle

Jangle-Visits

Feed The Jangle

RSS - Entradas
The JangleBox, 10th. Anniversary

Bands/Grupos