Clearance: Rapid Rewards (Balaclava Records, 2016)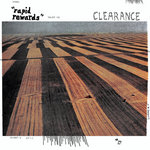 El álbum de debut de Clearance es toda un tributo en toda regla a los sonidos de Pavement, no nos vamos a engañar. Pero lo curioso es que los chicos parecen haber cogido lo mejor de la banda de Stephen Malkmus, porque lo cierto es que mantienen bastante el nivel durante todo el disco, sin llegar a cometer ciertos altibajos como por momentos podríamos tener la sensación en algunos trabajos de los de Stockton, en especial en su última época.
Clearance no nos eran desconocidos, pero en cualquier caso, su revivalismo de los noventa nos satisface bastante, y su sitio en el blog lo tienen merecido.
"Clearance is an independent rock band from Chicago. The group started in 2013 when singer/guitarist Mike Bellis and drummer Arthur Velez, who had first played punk covers together at house parties while still students at the University of Michigan, self-released a four-song, 7" EP. Another 7" EP quickly followed, and the pair quickly started drafting friends to help them play their songs live around town. After two years and change spent cutting their teeth throughout Chicago's vibrant DIY scene — becoming a fixture on bills throughout the city's bars, basements, and record stores alike — and with a handful of tours throughout the U.S. under their belt, the group, now rounded out on bass by Greg Obis and another guitar by Kevin Fairbairn, released their first album, "Rapid Rewards," in September 2015.
"Rapid Rewards" is a cheekily-titled batch of 13 tracks that capture the mix of anxiety and malaise familiar to the newly adult and municipally independent, delivered with the detached humor, millennial skepticism, and slapdash style of a young band just starting to hit its stride. Taking equal cues from the Flying Nun school of art-damaged guitar pop, classic British post-punk and 90s indie rock, the band mixes eras and styles with ease, resulting in a tightly focused but coolly off-the-cuff album by a group ready to write themselves into your record collection" (Press)
Aún no hay comentarios.
Jangle-Friends

Labels

Mags

Management

The JangleBox Mixtape, LoFi-Dj

Mixtapes

The JangleBox en Facebook

The JangleBox en Twitter

The JangleBox en MySpace

Look for in The JangleBox:

Previously in The JangleBox

Jangle-Comments

Top-Jangle

Jangle-Visits

Feed The Jangle

RSS - Entradas
The JangleBox, 10th. Anniversary

Bands/Grupos