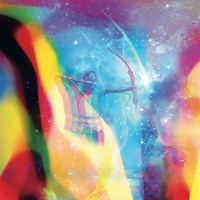 Miras Amplias (II)
Los proyectos paralelos, los dúos inesperados, las reuniones de súper grupos… siempre están de moda. Black Hearted Brother son un trío con base en Londres, y está formado por Neil Halstead (Slowdive, Mojave 3), Mark Van Hoen (Seefeel, Locust) y Nick Holton (Holton's Opulent Oog, Coley Park).
Tal y como hablábamos la semana pasada con el álbum de debut de The Fauns, Black Hearted Brother realizan en este Stars are our home (2013) todo un ejercicio de amplias miras y de retrospectiva sonora. Sus vistazos tienen, de alguna forma, el denominador común del Pop Psicodélico y digamos que "estelar" (If I was here to change your mind, Ufo, Time in the machine, Oh crust…)
Pero en sus viajes interestelares, les da tiempo para encontrarse con el Noise, el Fuzz (I don´t mean to) Wonder, con las miradas de Flaming Lips (This is how it feels), o incluso con flirteos más bailables (My baby just sailed away, Got your love). Aunque al final, a Healstead le tira lo suyo, y dedica espacio en el álbum a esa intimidad Folkie a la que nos tiene últimamente acostumbrados (Look out here they come).
Stars are our home es un disco más que interesante, un auténtico crisol de géneros hábilmente manejados y dirigidos con maestría. Sus miras, como dijimos, son muy amplias, y su techo, las estrellas.
_______________________
"It was Alfred Bester, if I recall correctly, who called 'the stars my destination', in his brilliant novel of the same name from 1956. Long considered a libertarian science fiction classic, it's also notable for featuring one of the very first accounts of synaesthesia in English-language fiction. This might be drawing a particularly long bow, but the title of Black Hearted Brother's debut, "Stars Are Our Home", immediately brought Bester's book to mind – and there's definitely something of the synaesthesic experience about this album, overflowing with enraptured, glowing textures, flaring white light like magnesium, in consort with brilliant red-blue waves of psychedelia.
Of course, the first thing that might crane your head towards "Stars Are Our Home" is the group's membership: Neil Halstead, the éminence grise behind Slowdive and Mojave 3; Mark Van Hoen, an original member of Seefeel, subsequently working solo and as Locust; and Nick Holton, the main mover behind Holton's Opulent Oog, and member of Coley Park, who have released albums on Halstead's Shady Lane label. They had previously converged on Halstead's 2001 solo album, "Sleeping On Roads," though Van Hoen also co-produced Mojave 3's "Out Of Tune" (1998), "Excuses For Travelers" (2000) and "Spoon & Rafter" (2003), while Holton took up production duties for Halstead's "Palindrome Hunches" (2012). Van Hoen and Halstead go back much further still, to 1992, when they were in Seefeel and Slowdive respectively: 'Mark taught Neil much that was electronic and ambient music.'
You could hear that education bearing fruit with Slowdive's late-period masterpiece, 1995's "Pygmalion." In some ways, "Stars Are Our Home" echoes that album's experimental process, if not the outcome, as Black Hearted Brother are a very different, distinctive beast, often indulging in what Halstead, self-deprecatingly, describes as 'a lot of very long and indulgent space rawk.' And indeed, that space-rock drive is writ loud and clear on the album's opening title track, an instrumental bliss-out that navigates through ocean-tides of FX-drenched guitar. But there's a lot more to it: 'The idea was to just make a record that was in some ways "unedited",' Halstead continues. 'To not worry about a particular sound or style, but to just go with the flow. We all make quite focused records individually so, as Mark says, it's our "guilty pleasures" album.' That seems about right, except with "Stars Are Our Home," the outcome is no guilt, all pleasure.
'Neil and Nick had, I think, started a few months before they asked me to join the party,' Van Hoen recalls. 'I think they had a few songs on the go, and needed an extra hand to add a few funny noises and generally add to the chaos – or maybe bring some order to the chaos.' Van Hoen has picked up on the dialectical nature of "Stars Are Our Home" here, its "order" and its "chaos": it's a rich, compelling album full of unexpected twists and turns, at times overloading the sensorium with so much material you're drenched in noise, but it'll just as quickly flip back on itself and drift through a glazed-eye, agrarian moment of acoustic melancholy (see the start of "Time In The Machine", which, as if to prove my point, takes less than a minute to build into a clangorous, droning monster).
So, there's a whole lot going on in these grooves, and plenty of it's unexpected, or from unexpected sources. The trio plays fast and loose with what listeners might consider their pre-ordained 'roles'. 'Primarily the songs themselves were started either by Nick or Neil individually,' Van Hoen explains, 'but then edited, developed and generally messed around with and rendered almost unlistenable by either myself or the others. The roles were not always clear cut. Sometimes Nick would be playing keyboards and synths, and myself guitars.' Lyrics on the record feel like another texture, another layer: sometimes they're invocatory chants, sometimes Halstead's and Holton's voices are ghosted by electronic manipulation, as on "Oh Crust". Often there's more going on than at first glance, and an index of the album's lyrical concerns runs to 'romance, sci-fi, places to go on holiday, real UFO abduction, the duality in the meaning of words, lament for the loss of psychedelic freedoms by the masses…'
"Stars Are Our Home" is brave and beautiful, mysterious and resonant. Its experimental edges never forget the importance of the pop moment; the best way to bring people around to your way of hearing is to seduce their ears, and there's seduction plenty here, pure pop like "Take Heart", the Other Green World of "I'm Back", the closing driftwork that is "Look Out Here They Come". A real head-wrecker of an album. And what does the future hold? The trio speaks as one: 'Black Hearted Brother will grow and mature into something very sophisticated in the coming years. A kind of comedic-space-rock-dancehall outfit to define a zeitgeist for the 22nd century, if you like.' Ha, yeah – amen, brothers!" (Press)