Boardwalk: Boardwalk (Stones Throw Records, 2013)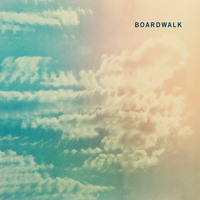 Brumas
Boardwalk es el nombre del disco de debut del dúo homónimo de San Francisco. Conocidos ya por estos lares, Amber Quintero y Mike Edge han sabido conjugar perfectamente elementos ya conocidos (es evidente su relación sonora con bandas como Beach House o Widowspeak) pero, a diferencia de lo que piensan en, por ejemplo, Pitchfork, opino que Boardwalk han sabido darle a su debut un toque personal, fresco y, por qué no, dotado de alma.
Los chicos han tomado temas conocidos y han ampliado su repertorio hasta completar los diez cortes que componen su debut. Han sabido conjugar las influencias admitidas (Beatles, Brian Eno, Velvet) y las no (Mazzy Star, Stereolab…), para configurar un disco marcado por los parajes sonoros construidos en base a teclados analógicos, guitarras distorsionadas y con el toque justo de ecos, reverbs, slides y un cierto aire general de bruma.
Definitivamente, me gustan Boardwalk, por aquí los definimos en su momento como "nuestros ensoñadores favoritos" y creo que continuamos con esa opinión. Su debut es una confirmación de lo apuntado durante el año, y el paso a formato grande tras publicar varios sencillos previos no se resiente demasiado. Recomendable.
_________________________
"Summer of 2012 Boardwalk duo Mike Edge and Amber Quintero were introduced by mutual friends in Los Angeles. Although both were involved in different musical projects (Mike contributing his musical and production know-how, Amber contributing her vocal ability), an undeniable creative chemistry made itself present between the two within a short time of introduction. This chemistry sparked a curiosity that could only be satiated by a collaboration of minds. The creative compatibility test came one day on an impromptu road trip. The elements involved were basic yet obligatory: a guy, a girl, a car, the open road. The end result was 'I'm Not Myself,' their first song written together. The title itself is indicative of Mike and Amber's altered state of being after that ride. The road trip was over, but the journey was only beginning. Focused on creating a sound that was their own, Mike sourced and built the gear that was requisite in capturing the essence of their sound. Their exploration of tracking analog sounds and vocal melodies over dreamy instrumental layers continued until an album of songs was complete. The needle makes contact with the record, and so continues Boardwalk's journey, their self-titled album released by the legendary independent music label Stones Throw Records" (Press)
Facebook / Cómpralo-Purchase / Stones Throw Records
Aún no hay comentarios.
Jangle-Friends

Labels

Mags

Management

The JangleBox Mixtape, LoFi-Dj

Mixtapes

The JangleBox en Facebook

The JangleBox en Twitter

The JangleBox en MySpace

Look for in The JangleBox:

Previously in The JangleBox

Jangle-Comments

Top-Jangle

Jangle-Visits

Feed The Jangle

RSS - Entradas
The JangleBox, 10th. Anniversary

Bands/Grupos