Pond: Hobo rocket (Modular, 2013)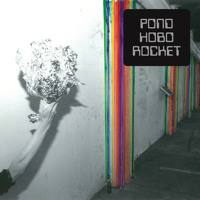 No me quiero volver vago a estas alturas, pero, para seros sinceros, estoy saturado: de trabajo (profesionalmente hablando, no vivo de ésto), de música (tengo las bandejas de entrada del correo llena y lo mismo con la de "favoritos" del ordenador con discos para oír), y creo que a estas alturas, utilizar las críticas ajenas no le va a hacer daño a nadie. Además, en TJB somos sinceros, y citamos nuestras fuentes.
Sobre este disco, en particular, deciros, que sí, el quinto trabajo de Pond resulta un tanto soporífero. Se han basado demasiado en los setenta, pero en los setenta más sinfónicos e incluso más rockistas. Otros álbumes suyos eran más amenos.
"Any band currently making ol' fashioned psychedelic pop-rock will be measured againstTame Impala's modern masterpiece Lonerism and Pond has it especially tough: the Australian group shares two members with Tame Impala and is likely to be considered a side project even though Hobo Rocket is their fifth album. In fact, when Pond frontman Nick Allbrook left Tame Impala to focus on his various projects, he was replaced by anothercurrent member of Pond. So while there isn't a competition between the two, there is an implict sibling rivalry; while the two bands share DNA, one is the genial, goofy ne'er do well counterpart to their more accomplished brother.
That said, genial and goofy are almost always positive attributes in this realm. Allbrook opensHobo Rocket asking, "Whatever Happened to the Million Head Collide?" which…yeah. And while you ponder that mystery over a loosey-goosey Bo Diddley beat, all of a sudden it breaks into a Zeppelin stomp of maxed drums and burly blues riffs. The van's a-rockin'. I'm sure the origin story behind the bombastic glam-stomp "Xanman" is a hoot, even if it's just a result of Allbrook coming across "Zan With That Lean" and "The Nightman Cometh" in the same YouTube spree. No band that takes itself too seriously could write "Xanman", and it's a good example of why Pond can serve a purpose against the more refined likes of Dungen or Tame Impala.
You also have to grapple with the fact that it's a five-minute song based on the lyric "Xanman! Won't you understand you're not crying for your xan, man!" It gets to the core question of just how much ambition and expression you can expect from a record calledHobo Rocket that clocks in at just over a half hour in seven tracks. You can be a witness to Pond's good time, but can you be an active participant in it? "Whatever Happened to the Million Head Collide?" and "Xanman" at least have hooks and something close to coherence. Otherwise, Hobo Rocket quickly becomes a collation of the kind of wigged-out studio tricks that Lonerism was notable for avoiding or at least minimizing, an idea of what Tame Impala would be without Kevin Parker's consummate songwriting and meticulous editing.
There are no shortage of abrupt tangents and fades, whooshing stereo panning and phaser effects and obscene fuzz tones throughout Hobo Rocket. They're often more extreme than anything on Lonerism or the loopier Innerspeaker. Blast it at a keg party in an open field or ingest the headphone candy by yourself, it holds up either way. But the trickiness becomes a distraction. "O Dharma" and "Midnight Mass (At the Market Station)" replicate replicas of Beatles replicas, the same old flanged vocals over strummed acoustics and weepy Mellotron, with little melody to get in the way. "Aloneaflameafloewe" runs its banshee wails and plodding rhythms through an impenetrable haze of effects, evoking a half-rememberedWolfmother festival set. The title track only exists for its vocal EQ'ing; it gives the effect of a radio DJ too drunk to realize his mic's still on and that he's been talking over Bad Company for the past four minutes.
Pond mean well and it's hard to stay mad at Hobo Rocket for very long; it's quite to easy to take it at face value as stoner rock in a pure form. Then again, that term tends to be misunderstood or misapplied: is it meant to describe the consumers of the music or the creators? Not to cast aspersions on how Pond spend their free time, but when you look at bands ranging from Sleep to Tame Impala that get the same tag, there's still a precision, studiousness and clarity to their music regardless of the production tricks or narcotized tempos. Hobo Rocket draws out the indulgence, more than happy to engage in dumb fun without bringing much to the party" (Pitchfork)
Aún no hay comentarios.
Jangle-Friends

Labels

Mags

Management

The JangleBox Mixtape, LoFi-Dj

Mixtapes

The JangleBox en Facebook

The JangleBox en Twitter

The JangleBox en MySpace

Look for in The JangleBox:

Previously in The JangleBox

Jangle-Comments

Top-Jangle

Jangle-Visits

Feed The Jangle

RSS - Entradas
The JangleBox, 10th. Anniversary

Bands/Grupos