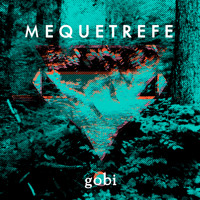 "A serious band" era el nombre del EP que contienía las nuevas canciones de Mequetrefe, grupo gallego que se incorporaba a nuestro sello y que volvían en enero pasado después de un primer LP publicado en 2010. Luego le seguía un nuevo single, "Orange", tema que también contendría este su segundo LP. Hace unos días llegaba el turno a "The Last Trip", adelanto previo a lo que es la puesta de largo que os presentamos ahora, "Gobi".
El grupo edita este lunes 25 de noviembre de 2013 el que es su segundo disco, "Gobi", y son 3 los años desde la publicación de su debut, "Play Off" (2010), un trabajo donde aparecían todas las señas de identidad de su peculiar sonido: sobredosis de delays y reverbs, voces con efectos, baterías electrónicas, loops, guitarras distorsionadas, largos pasajes instrumentales, sintetizadores, samples, ausencia de estribillos y coqueteos con el dub, la electrónica, shoegaze, la psicodelia o el lo-fi.
Todos estos elementos siguen presentes en "Gobi", aunque el sonido ahora es un poco menos denso, ya que el feedback de los delays y reverbs ha disminuído. El grupo ha intentado en este segundo asentar el sonido "Mequetrefe" y al mismo tiempo ampliar más la cantidad de timbres utilizadosy las variantes de las estructuras de los temas. Los gallegos han escogido "The Las Trip" como single adelanto al LP. 
A la gente a la que le guste (juntos o por separado) el shoegaze, la psicodelia, la electrónica, el lo-fi o el dub, no podemos garantizar que le pueda gustar el sonido Mequetrefe, simple y llanamente porque Mequetrefe no es un ejercicio de estilo.
Ahí es donde se mueven los 5 miembros de Mequetrefe, en ese desierto, en ese "Gobi" tan propio y particular, eligiendo el camino menos transitado y obvio, pero también el más divertido e inesperado. Porque predicar en el desierto puede ser duro pero también excitante" (Press)
La banda murciana Clara Plath presenta su nuevo video: "Dubidu" – Live in the park. "CP son una banda formada en marzo de 2013. Debutó en directo en septiembre del mismo año, en la XIX edición del Festival Lemon Pop. Acaba de editar  digitalmente su primera maqueta, "Ten Tristes Tracks". Su "lirismo sónico" evoca la crudeza de las primeras grabaciones de PJ  Harvey, el desgarro guitarrero del grunge, la espontaneidad de dEUS, pasando por la oscuridad propia del "noise pop" y el brillo melódico de The Smiths" (Press)
Próximos conciertos de Clara Plath:
– Sábado 16 de noviembre, Sala Musik Jazz, Murcia. Clara Plath + The crime
– Sábado 21 de diciembre, Sala 12 Y Medio, Murcia. Triángulo de amor bizarro + Clara Plath.
Jangle-Friends

Labels

Mags

Management

The JangleBox Mixtape, LoFi-Dj

Mixtapes

The JangleBox en Facebook

The JangleBox en Twitter

The JangleBox en MySpace

Look for in The JangleBox:

Previously in The JangleBox

Jangle-Comments

Top-Jangle

Jangle-Visits

Feed The Jangle

RSS - Entradas
The JangleBox, 10th. Anniversary

Bands/Grupos